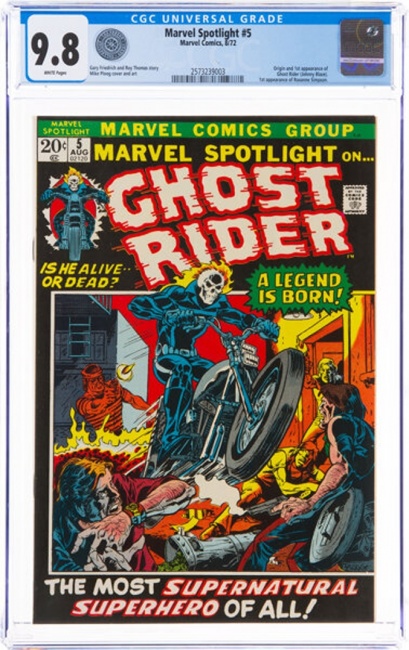 A CGC 9.8 copy of
Marvel Spotlight #5
with white pages, from the Oregon Coast Collection, sold for $264,000 (buyer's premium included) at Heritage's Comics & Comic Art Signature Auction on June 17. This is the highest auction result recorded for a Bronze Age comic book.
Marvel Spotlight #5 features the origin and first appearances of Ghost Rider (Johnny Blaze), the Spirit of Vengeance, and Roxanne Simpson. It is an incredibly difficult comic to find in higher grades, and there have only ever been four copies to be given a 9.8 grade by CGC. The last 9.8 copy that was auctioned went for $48,500 in October of 2016, and this sale represents a 445% increase in value over 5 years.
This book came from the Oregon Coast Collection, which is an exclusive label of TRL Comics, an online collectibles company owned by comics restorer Susan Cicconi and Orrin Zucker. The lot of books originates from a long-time collector in Oregon who was looking to retire. He contacted Cicconi through an ad for her restoration services about his books, and later partnered with her company to manage the sale of the collection.
Most of the books in the Oregon Coast Collection were bought decades ago in new condition, well-preserved, and have not been restored. This collection included other Bronze Age gems, all in CGC 9.8 grades, that were up for sale in this auction: The Silver Surfer #4 (closed at $90,000), The Incredible Hulk #180 (closed at $40,800), and The Amazing Spider-Man #129 (closed at $40,800).
Heritage Auctions will also put the first comics from the Promise Collection, CGC's 61st recognized pedigreed collection, on the block at their June 17 - 19 Comics & Comic Art Signature Auction in Dallas, Texas (see "'Promise' Collection Books Head to the Heritage Auction Block").
Click on Gallery below for full-size images!