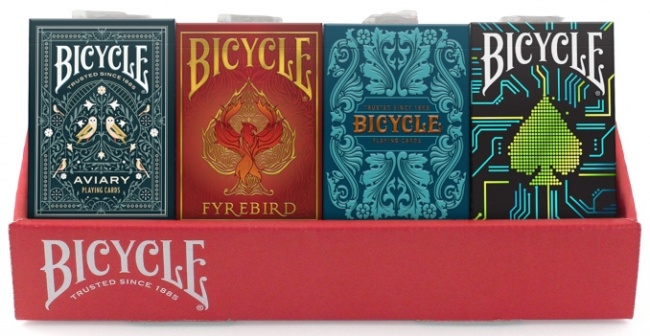 Sales on games have been booming during the Covid era, and that includes premium playing cards, which have taken off as an impulse sale item at check-out in hobby game stores, Bicycle Brand Manager Kyle Nicholson told ICv2. "We're seeing extremely fast growth on premium playing cards," he said. "These are cards that have foils and designer tuck cases, and they go at premium points, $10, $15, and it's really driving growth, especially in the hobby channel."
People are buying the cards because they're playing more card games at home, because they like the designs, and increasingly as collectors, Nicholson explained. "It's an impulse purchase most of the time," he said. "People don't come to your store and say, 'Oh, I need a deck of cards,' but they're there. They see a dragon deck; they love dragons; they're going to buy it. They see a unicorn deck; they love that. Also, there's a growing collector community, people who just love to collect, no matter what design we release. They love to find those, and there are more and more going to look for those in hobby-type stores."
Bicycle offers its premium decks in a prepacked counter display of 24 (six each of four designs), which can be restocked or stocked with new designs via inner packs of six. Bicycle created the display in response to feedback it received at a GAMA trade show, and it's currently available at most of its hobby distributors, Nicholson told us.