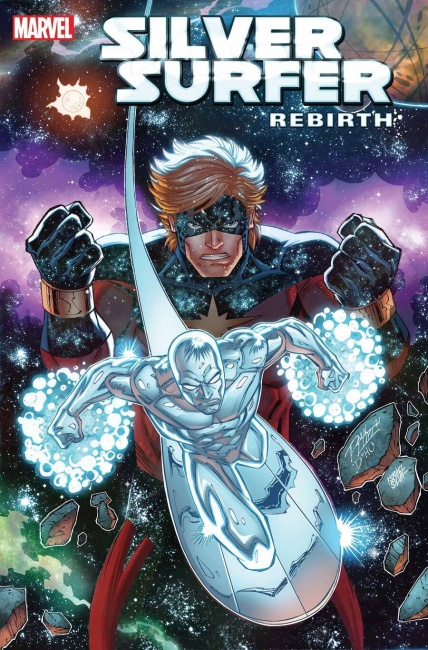 Marvel Comics announced
Silver Surfer: Rebirth
#1, issue #1 of a five part comic miniseries, which will hit stores on January 19.
Writer Ron Marz and artist Ron Lim have reunited for a miniseries run on Silver Surfer. Marz and Lim started their first run on Silver Surfer with issue #51, and Marz stayed on the series till #102. This run started in 1987 and lasted till 1995.
"Silver Surfer with Ron Lim was literally my first job in comics," said Marz. "The first comic page I ever wrote was drawn by Ron when we were both kids. And now three decades later we get to go back there and slip right back into that same groove. It's so great to be wielding the power cosmic again."
The story for this new series revolves around the Reality Gem. Someone has stolen this powerful object, and is resurrecting dead heroes like Captain Mar-Vell. Silver Surfer has to ally with Thanos to find the gem and restore realty. This issue also features a cover rendered by Lim.
Ron Marz recently launched a new book on the Zoop platform (see "Platform Zoop").
Click on Gallery below for full-size images!