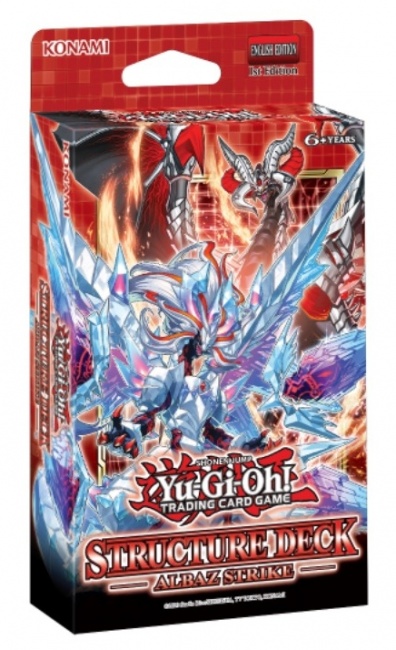 Konami Digital Entertainment will release the
Yu-Gi-Oh! TCG - Structure Deck: Albaz Strike
on March 11.
Albaz Strike centers on Fallen Albaz, which originally appearing in Rise of the Duelist. The monster uses Fusion Summoning effects that allows duelists to absorb enemy monsters and transform it into new forms. The structure deck includes new Tri-Brigade and Springan monsters as well as reprints from Phantom Rage and Blazing Vortex sets. The deck includes five Tokens that feature new art that tell the stories of 'Fallen of Albaz'. Cards that offer additional support for the deck can be found in Burst of Destiny and the recently announced Battle of Chaos (see "Konami Announces First Core 'Yu-Gi-Oh!' TCG' Set of 2022").
Albaz Strike will contain 46 cards (a 40-card Main Deck and 6-card Extra Deck), including 5 Ultra Rares, 3 Super Rares, and 38 Commons; 5 special Token cards; and a double-sided deluxe game mat/dueling guide.
For information on future releases, check out the Yu-Gi-Oh! 2022 release calendar (see "'Yu-Gi-Oh!' Product Release Calendar For 2022").