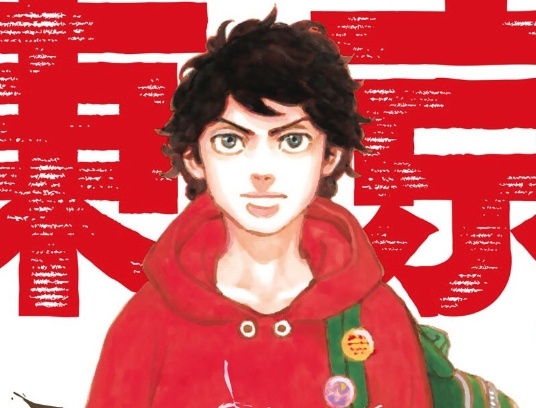 Seven Seas Entertainment has picked up the print license for
Tokyo Revengers,
by Ken Wakui, and will publish the manga in oversized, two-in-one omnibus editions. The first volume is slated for May 2022 and will have an MSRP of $22.99, and Barnes & Noble is also publishing an exclusive edition. Kodansha Comics has been publishing the series digitally (see "
Manga at NYCC: Viz, Vertical, Kodansha Announce New Titles
"), and the anime is available on Crunchyroll. A live-action version was released in Japan last July.
Tokyo Revengers follows a former gang member, Takemichi Hanagaki, who learns that his middle-school girlfriend and her little brother were killed by his old gang, the Manji Gang. Shortly afterward, he develops the ability to move backward and forward in time between the present and his middle school years, and he decides to use that ability to save his old girlfriend and her brother. This causes him to become more deeply entangled in the gang's inner workings, as it grows and evolves to become the biggest gang in Tokyo.
One aspect of the book that may be problematic for retailers is the appearance of a left-facing swastika, a symbol known as "manji" in Japanese. The Manji Gang uses the symbol as its insignia, and it appears repeatedly in the story, including on the cover. The manji has an ancient history in Japan and usually has positive connotations, as opposed to the right-facing version appropriated by the Nazis; it also appears in Hiroaki Samura's Blade of the Immortal. Seven Seas stated in a Tweet that they will not remove the symbol but will add a cultural note to explain it. The manji was removed from the anime version that streams on Crunchyroll.
Tokyo Revengers is 24 volumes long and still ongoing. It won the Kodansha Manga Award in the shonen category in 2020, and 40 million volumes are in print in Japan. Anime News Network reported this week that it was the third best-selling manga in Japan during the period from November 23, 2020 to November 20, 2021, coming in behind Jujutsu Kaisen and Demon Slayer: Kimetsu no Yaiba and ahead of Attack on Titan and My Hero Academia.