The manga news at New York Comic Con was pretty sparse, with most publishers apparently holding their big announcements for AnimeNYC, which takes place in November.

The exceptions were VIZ Media, Kodansha Comics, and Vertical Comics, which announced several new print manga licenses.

VIZ Media had an art book and a new shojo manga series to announce:

The Art of Neon Genesis Evangelion: 2007-2017, a collection of concept and finished art from the anime, movie, and game, due out in summer 2019.

Daytime Shooting Star, a shojo manga about a girl who collapses in a park and is rescued by a handsome stranger—who happens to be her homeroom teacher. This series will launch in summer 2019.

Kodansha Comics had three manga: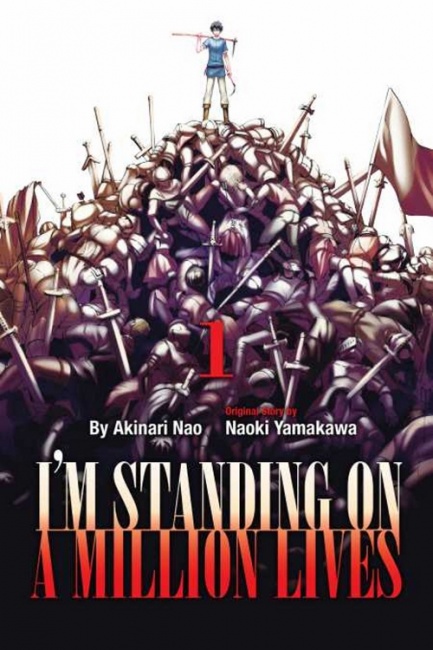 I'm Standing on a Million Lives,
a fantasy adventure story about a teenager is transported into a fantasy world together with two classmates, both female; they are transformed into a wizard and a warrior, while the hapless protagonist is a mere farmer. This series is already available digitally, and Kodansha will release the first volume in print in May 2019.
Magus of the Library,
an all-ages story about a lonely elf boy who is rejected by his peers and finds solace in his local library. That turns magical when a librarian from the main branch brings him to a new world of magic and adventure. The setting of this series is inspired by the
Arabian Nights
. Volume 1 will be released in July 2019.
O Maidens in Your Savage Season,
a more realistic, emotion-focused story about high school girls coming of age. The story begins with a group of girls answering the question "What's the one thing you want to do before you die?" One girl answers "Sex," starting with a game in which one girl admits the one thing she wants to do before she dies is have sex. Volume 1 will be out in April 2019.
The Vertical Comics announcements included two new manga and a novel:
The Golden Sheep,
a story about childhood friends who are separated and later reunited, and the changes they have gone through. The creator is Kaori Ozaki, author of
The Gods Lie,
also published by Vertical.
The Golden Sheep
will begin serialization in September 2019.
Don't Mess With Me, Nagatoro,
a story about a student who enjoys provoking her senpai (an older student). Volume 1 will be out in November 2019.
Voices of a Distant Star,
a novelization of the Makoto Shinkai anime, due out in July 2019.
Kodansha also had a few digital-first manga to announce, all of which are debuting in October:
Are You Lost?,
a survival story about high school girls stranded on a desert island who have to improvise the basics of everyday life;
Kira-Kun Today,
a story about a high school student and a goofy girl with a dark secret;
Tokyo Revengers,
a time-travel story about a teenager who must fight a gang of delinquents to keep his girlfriend from getting killed;
Forest of Piano,
a story about two young pianists, one self-taught, one training to be a professional musician, and their teacher, whose career was cut short by an accident;
Mikami-sensei's Way of Love,
a romance between a high school student and her neighbor, who is a teacher;
Princess Resurrection Nightmare,
the further adventures of the chainsaw-toting heroine of
Princess Resurrection.
While manga, anime, and Japanese game companies had a robust presence at NYCC—VIZ, Capcomm, Toei, and others all had big booths close to the entrance, and VIZ in particular had huge lines for its retail store—the number of guests was small, again perhaps because of AnimeNYC. Harold Sakuishi, the creator of
Beck
(originally serialized by Tokyopop and currently available digitally on comiXology) and
Seven Shakespeares
(a new series that is also available on comiXology) was a guest of the show and was honored at the Harvey Awards with an International Spotlight Award (see "
Harvey Awards Go to 'Monstress,' 'Black Panther' Movie
"). Also a guest at the show was Canadian-French creator Tony Valente, whose manga
Radiant
was published first in France, then in Japan, and now in North America—making him one of the few non-Japanese creators to have their work published in Japan (see "
Review: 'Radiant' Vol. 1 TP (Manga)
").