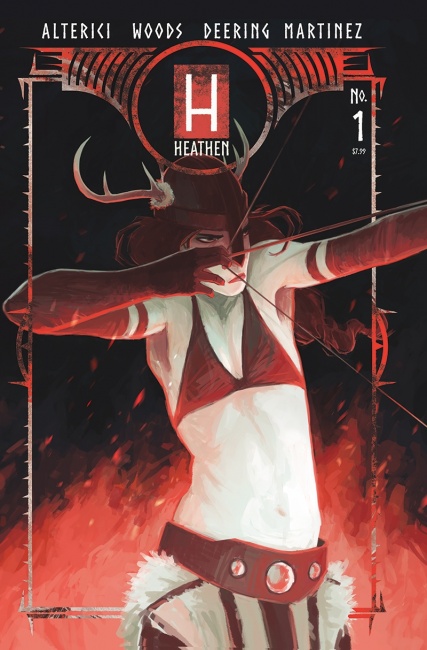 Vault Comics is launching a new line of collector's editions, Vault Reserve, and they are starting by bringing Natasha Alterici's
Heathen
back in single-issue format.
Heathen
#1 will be released on February 16, 2022, with an MSRP of $7.99.
Vault Reserve is a new line of collector's editions, reprints of already-published comics with new covers, exclusive extras, and deluxe production values. The initiative comes as the publisher celebrates its fifth anniversary.
Set in the time of the Vikings, Heathen is a fantasy story about Aydis, a gay woman warrior who rebels against the way women are treated and sets out to dethrone the god-king Odin. The series launched in 2017 and ran for 12 issues (see "Preview: 'Heathen' Returns in 2019"). Vault collected it into three volumes, and a complete edition is scheduled for May 2022, with an MSRP of $24.99. The first volume was included in YALSA's Great Graphic Novels for Teens list for 2018. Constantin Film and Prime Universe Films are developing a feature film based on the series (see "'Heathen' in Development"), to be directed by Twilight director Catherine Hardwicke.