It's theft, the return of excellent friends, corner stores, and new directors, actors, posters, and projects in the latest geek movie roundup.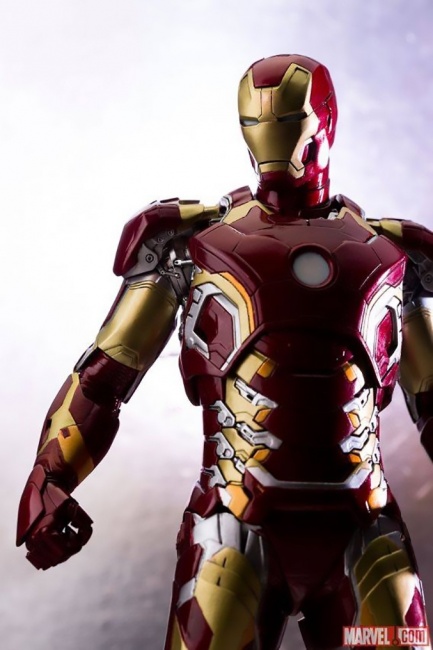 An Iron Man suit used in at least one of the MCU films has been stolen from a warehouse in the Los Angeles area according to
The Hollywood Reporter
. Police are investigating the theft of the suit, which was worn by actor Robert Downey, Jr., and is estimated to be worth in the mid-six figures. Other items were also taken, but authorities did not offer specifics (nor was the MCU film in which the suit appeared identified).
Whoa! Keanu Reeves and Alex Winter are resuming the excellent adventures of Bill and Ted reports THR. Bill & Ted Face the Music reunites the Wyld Stallyns nearly 30 years after their last performance in Bill & Ted's Bogus Journey. Original creators Chris Matheson and Ed Solomon are also returning with a script, and Dean Parisot (Galaxy Quest, Red 2) is set to direct. In the film, Ted "Theodore" Logan and Bill S. Preston, Esq., are now weighed down with the responsibilities of middle age and have yet to write the song that will save the world.
Six billion dollars doesn't seem to be enough to keep a director on Six Billion Dollar Man. The film has lost another director, this time Damian Szifron, who co-wrote the script for the Mark Wahlberg starrer (via THR). Szifron took over after Peter Berg (Lone Survivor) left in late 2015 (see "'Best in Shows' Update"). Szifron departed for the ever-vague reason of "creative differences." The film is scheduled for May 31, 2019 (see "Disney Calls Dibs on Dates for MCU, 'Six Billion Dollar Man' and 'The Crow' Set Dates, Kristen Wiig In Talks For 'Wonder Woman 2'"), and the studio is reportedly intent on maintaining their schedule, which calls for shooting to begin this summer. Salvation may be nearby: Mel Gibson is reportedly eying the role of Steve Austin's mentor Oscar Goldman, and he's been known to direct a film or five.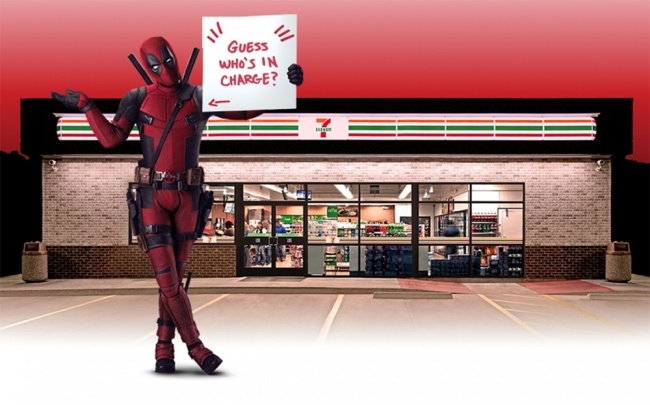 Deadpool may be popping up at your local 7-Eleven. In conjunction with the release of
Deadpool 2
, the chain has joined forces with 20th Century Fox on a series of branded products and augmented reality experiences. For a limited time, fans who join 7-Eleven's rewards program and log into the 7-Eleven app can access contests, activities, and A/R features that make the Merc with a Mouth appear in the store and integrate with social media. Branded products include the Monster Mutant Red Dawn Slurpee, five collectible cups, and straws sporting tiny Deadpool figures. 7-Eleven chimichangas, Trolli Sour Brite Tinyhands, Monster energy drinks, and Mike's Harder Watermelon Lemonade cans will also sport branded packaging.
Deadpool 2
opens on May 18 (see "
'Deadpool 2' Will Knock You Out
").
Multiple Oscar-nominee Annette Bening (American Beauty, Mars Attacks!, The American President) is joining the cast of Captain Marvel, marking her first outing in a superhero film according to THR. She is reportedly playing a scientist, but no details on the role were revealed. She joins star Brie Larson, Jude Law, Ben Mendelsohn, Gemma Chan, Djimon Hounsou, and Lee Pace on the film from directors Anna Boden and Ryan Fleck. Captain Marvel is scheduled to hit the big screen on March 8, 2019 (see "'X-Men: Dark Phoenix' Reshoots, 'Captain Marvel,' 'Deadpool 2' Poster, 'ROM, 'Indiana Jones 5'").
Speaking of Captain Marvel, Bryan Fuller took to Twitter to reveal the first poster for the film. Naturally, Carol Danvers is front and center, surrounded by war planes and explosions. If you look really closely, you might also spy Samuel L. Jackson's Nick Fury in the background, both eyes seemingly intact.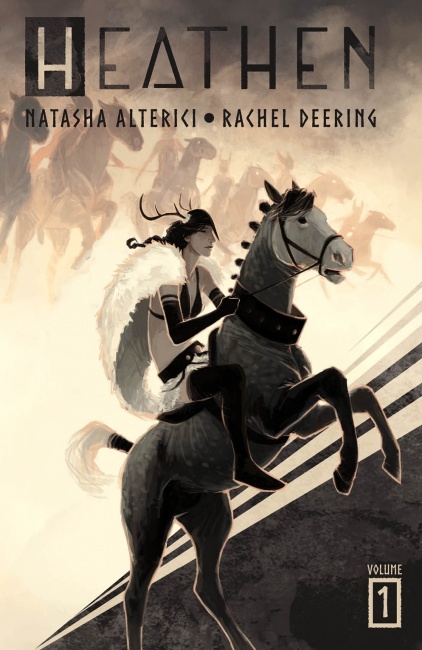 Vault Comics'
Heathen
is in development for a feature film with Constantin Film AG. The film based on Natasha Alterici's comic series will center on Aydis, a woman Viking warrior bent on ending the oppressive reign of Odin. The comic series was recently selected for the Young Adult Library Service Association's (YALSA) 2018 Great Graphic Novels For Teens list. The film will be written by Kerry Williamson (
What Happened to Monday
) and produced by Constantin's Robert Kulzer and Adrian Askarieh (
Hitman: Agent 47
) and F.J. DeSanto (
The Spirit
). Vault's Damian Wassel will executive produce along with Constantin's Martin Moszkowicz. Tim Daniel with Vault will co-produce.