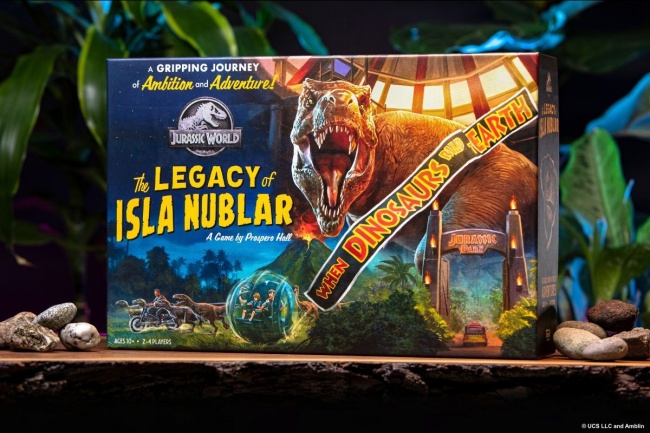 Prospero Hall, a Funko Games brand, offered up new product details on
Jurassic World: The Legacy of Isla Nublar
, which is headed to Kickstarter on March 22, 2022.
The new game is based on the Universal Pictures' and Amblin Entertainment's Jurassic World franchise, and was officially announced in September at Gen Con (see "Jurassic World"). This game takes players through all five of the films courtesy of 12 thrilling adventures. Players can play as characters from the films like Dr. John Hammond, Dr. Alan Grant, Dr. Ellie Sattler, Claire Dearing, or Owen Grady as they develop the park and unlock dinosaurs. Player decisions affect the storylines in various ways, which create for different outcomes at throughout the game.
"We always aim to create games we want to play around stories and characters we love most," said Deirdre Cross, Vice President of Prospero Hall. "This project has been in development for years, which has allowed us to experiment and innovate. We believe we are redefining the legacy game genre in a way that will surprise and delight tabletop and Jurassic World fans.
This game is for two to four players, ages 10 and up, and plays in about 120 minutes. It will be sold via KS for $120.