The top print property for Dark Horse Comics for the past three years has been a manga title, and now that title is being promoted with a worldwide ad campaign. Dark Horse's top print properties for the past 6-7 years were revealed in materials released in conjunction with the deal for the company to be acquired by game publisher Embracer Group last week (see "Embracer Group Acquiring Dark Horse"). In those documents, Dark Horse revealed that Berserk was its top print property for 2019, 2020, and through the first seven months of 2021. Berserk was Dark Horse's #4 print property in 2018, #3 in 2017, and #5 in 2016. Dark Horse has been publishing new hardcover editions of the manga.

Berserk isn't just Dark Horse's top property, it was the #2 manga franchise in North America on our chart of the Top Manga Properties for Summer 2021 (see "Top Graphic Novel Franchises – Summer 2021"). More than 50 million copies of the series have been sold worldwide, according to Hakusensha, the Japanese publisher of the Berserk manga.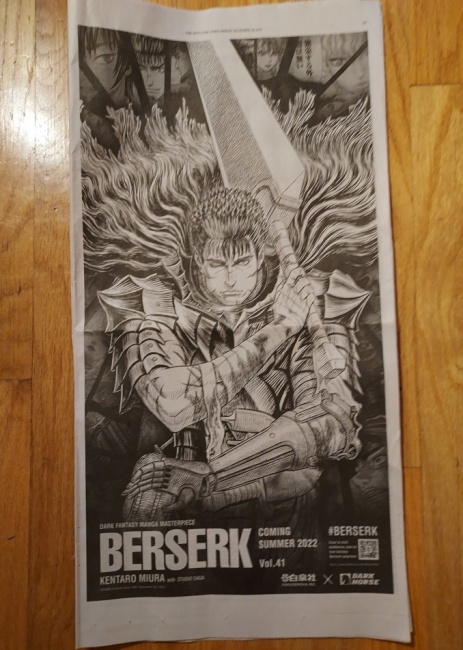 Now Dark Horse, along with French publisher Glenat, is participating in a global advertising campaign organized by Hakusensha to promote the final volume of the manga, Volume 41, due out in the U.S. in Summer 2022, and to honor manga-ka Kentaro Miura, who passed away earlier this year (see "
RIP Kentaro Miura
"). Full-page ads ads appeared on December 24
in Asahi Shimbun,
the national edition of
The New York Times
, and
Le Monde.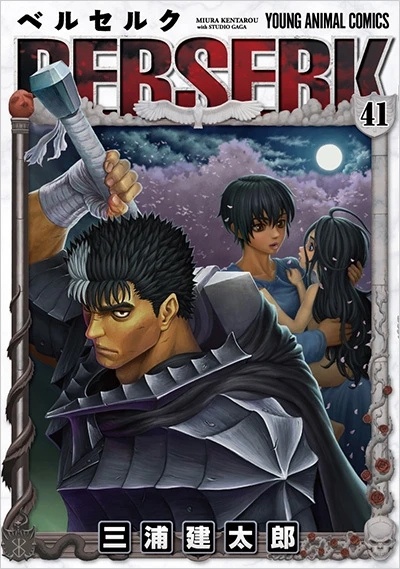 The December 24 date of the ads coincided with the Japanese release date of Volume 41.
In conjunction with the ad, Dark Horse is giving away free digital editions of the
Berserk Official Guidebook
through January 2, along with free virtual backgrounds, and running a sweepstakes on Twitter with copies of the
Berserk Deluxe Editions
as prizes.
Berserk
was not the only manga title in the chart of Dark Horse's top five print properties;
Hellsing
, which Dark Horse began publishing in new deluxe editions last year, was #4 (
Avatar: The Last Airbender
was #2,
Avatar
was #3, and
Zelda
was #5).