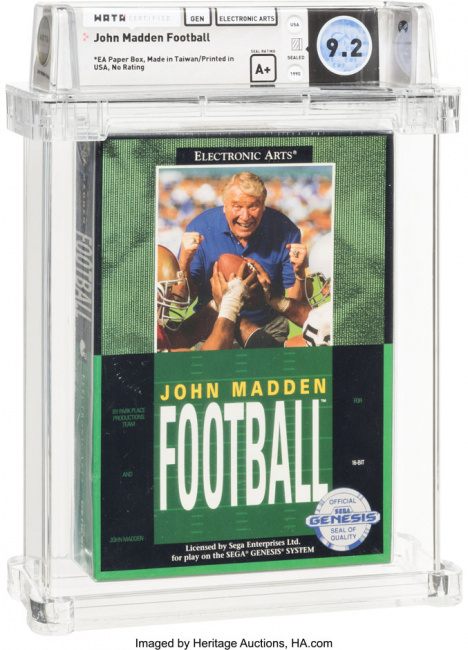 Heritage Auctions has put a Wata 9.2 A+ Sealed Copy of
John Madden Football (1990)
on the auction block in its January 28-29 Video Games Signature Auction.
This rare, high-grade copy of the first console Madden game, made by Electronic Arts for the Sega Genesis, came from the offices of John Madden, as noted by Wata Games. The very first Madden game was released in 1988 for the Apple II. The original game design, by Trip Hawkins, Robin Antonick, and John Madden, was inspired by 1967's Strat-O-Matic Football tabletop game. However, the first few versions of Madden were made without the NFL or NFLPA licenses, so there were no authentic team names, player names, or stadiums used.
The Sega Genesis version came out in 1990, and marked a turning point for the franchise because it was on a 16-bit machine and included 16 teams with city names, colors, and stats based on the 1990 season. John Madden, the legendary coach and commentator graced the cover of the game, and this edition sold about 400,000 units throughout the course of its run. Since then, there have been 40 different editions of the game released through 2021, and the franchise has generated more than $7 billion in revenue. John Madden passed away on December 28, 2021 at the age of 85.
This item is currently sitting at $57,500 in online bidding with 17 days left till the hammer drops.
Heritage Auctions recently announced that they had recorded $1.4 billion dollars in auction sales for 2021 (see "Heritage Auctions Passes Billion-Dollar Sales Mark in 2021").
Click on Gallery below for full-size images!