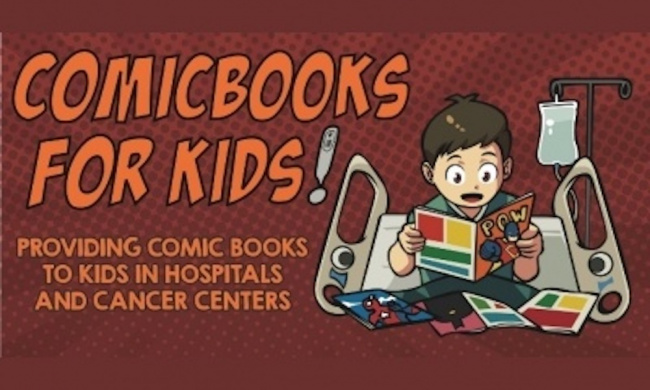 ComicBooks for Kids sent out 600 packages at 8,0000 pounds, plus 20 pallets of free comics in 2021, according to founder and President Mark Weiss, including 30 boxes of comics, valued at $9,000, to Los Angeles Children's Hospital.
Sister charity ComicBooks for Troops delivered around 87,000 comics to the military. "In this, just our fourth year, we are now the largest charity in North America for comic books and pop culture items," Weiss said in an e-mail.
ComicBooks for Kids was founded in 2017 with the goal of providing kid-friendly comics to hospitals and other medical centers; in 2020 they formed ComicBooks for Troops to send comics for older readers to members of the military (see "ComicBooks for Kids! Expands to Troops").
The charity has received a grant from the Eisner Foundation for the past two years and also partners with publishers, distributors, and retailers, including Diamond, Lunar, Archie, BOOM!, Dark Horse, IDW, Image, Oni Press, Titan, Valiant, and Zenescope, as well as Funko, Pez, and Paizo. The Pennsylvania retailer Hooked on Comics has a weekly auction to benefit them as well.
Publishers or retailers who are interested in donating can find information for both organizations at ComicBooks for Kids.