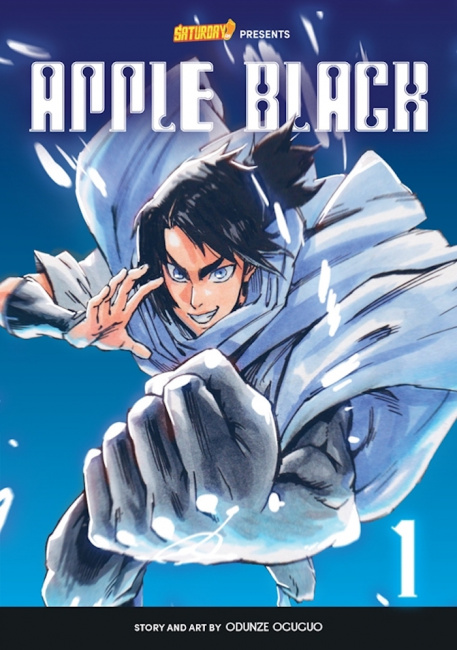 The Quarto Group is teaming up with the digital comics brand Saturday A.M. to publish collections of their webcomics in print form.
Saturday A.M. is an online comics anthology, owned by MyFutprint Entertainment, LLC, that specializes in shonen manga-style comics by an international group of creators. Started in 2013, the platform centers LGBTQ+ and BIPOC creators and characters and has produced over 150 issues of serialized comics, which can be read online or in its app.
Quarto will now bring collected editions of some of these products into print. The initial lineup includes Apple Black, by Nigerian YouTuber Odunze Oguguo (Whyt Manga), who has over 478,000 subscribers to his YouTube channel; Hammer, by Jey Odin, the artist for Oni Press's middle-grade graphic novel Lemonade Code; The Massively Multiplayer World of Ghosts, by New Zealander Oscar Fong; Titan King, by Honduran American Tony Dawkins; Oblivion Rouge, by Senegalese creator Pap Souleye Fall; Saigami, by the Hungarian creator Seny; and Saturday A.M. Presents How to Draw Diverse Manga. All the books are slated for release in summer 2022, and all have an MSRP of $13.99 except for How to Draw Diverse Manga, which is priced at $24.99. Quarto's plans call for a total of 10 Saturday A.M. books in 2022 and 15 in 2023.
Saturday A.M. also has two other platforms, Saturday Brunch, which focuses on female and LGBTQ+ characters, and Saturday P.M., an 18+ site. They have a line of Jabberwocky toys, available from Hot Topic and other retailers, that are based on their books, and they plan an online event, SaturdayCon 2022, on January 15 and 16, which will feature fan panels, meet-and-greets with creators, tutorials, and portfolio reviews; as well as a digital manga panel featuring Kou-Yu Liang of Ku Worldwide, Beth Kawasaki of the digital comic distributor Media Do, and Michael Son of Tapas; and a panel on the history of manga in the West featuring Tokyopop CEO Stu Levy.
Click Gallery below for covers of the first seven Saturday A.M. releases!