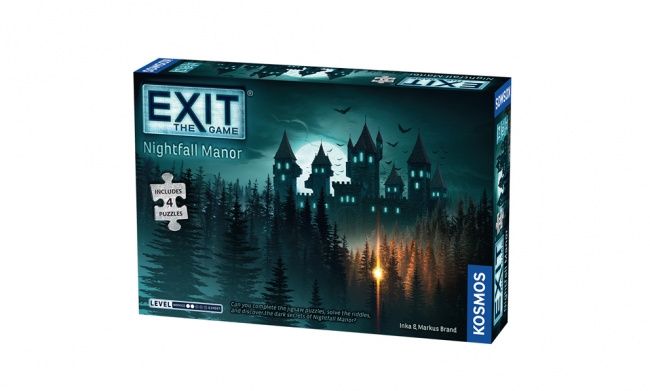 Thames and Kosmos announced
Exit: Nightfall Manor
, an escape room board game, for release on March 25, 2022.
In this new Exit game, players explore a dark castle on the edge of a forest looking for an old man. The old man travelled to Nightfall Manor in search of its shadowy and mysterious lord. Now, players must solve riddles and piece together four jigsaw puzzles to save their friend. This Exit game builds upon the jigsaw puzzle mechanics similar to last year's Exit: The Sacred Temple release (see "More 'Exit' Titles").
The game box comes with 88 puzzle pieces, 14 Riddle documents, 10 Strange items, a decoder disk, and a rulebook. It is for one to four players, ages 10 and up, and plays in two to three hours. This game will retail for $27.95.