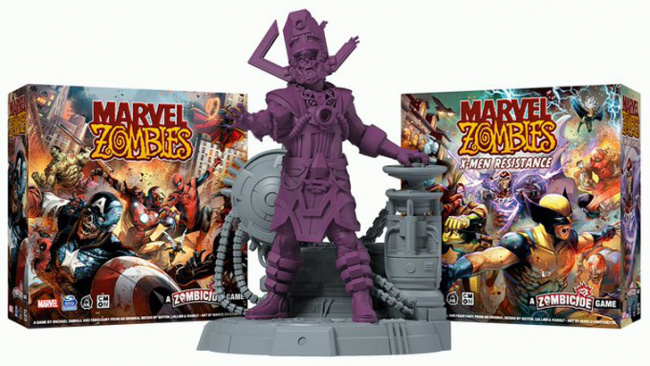 CMON launched its
Marvel Zombies
miniatures board games and expansion on Kickstarter. The campaign is already fully-funded at $3.48 million with 13,211 backers ($263 a backer), and is expected to be fulfilled by June 2023.
Marvel Zombies is a cooperative board game that harnesses the core mechanics of the Zombicide game series to bring the classic Marvel story arc to the tabletop. In the base game, players can take on the roles of Zombie Heroes and go gnaw on bystanders to complete their objectives. They will also battle living superheroes as well as S.H.I.E.L.D. Agents.
The Marvel Zombies X-Men Resistance core box allows players to use the living superheroes to battle the undead heroes and save the bystanders. As they rescue bystanders, the heroes will gain their assistance to stand against the Zombie heroes. There is also a Galactus the Devourer expansion available that adds both Silver Surfer and Galactus to the mix. This expansion features a Galactus model with an interchangeable head to turn him into Zombie Galactus.
This game is for one to six players. As of the publication of this article, there is no word on a retail release.
CMON will also release a Stark Starter Set and Lannister Starter Set, for A Song of Fire and Ice: Tabletop Miniatures Game, into retail (see "'A Song of Ice and Fire' Starter Sets into Retail ").