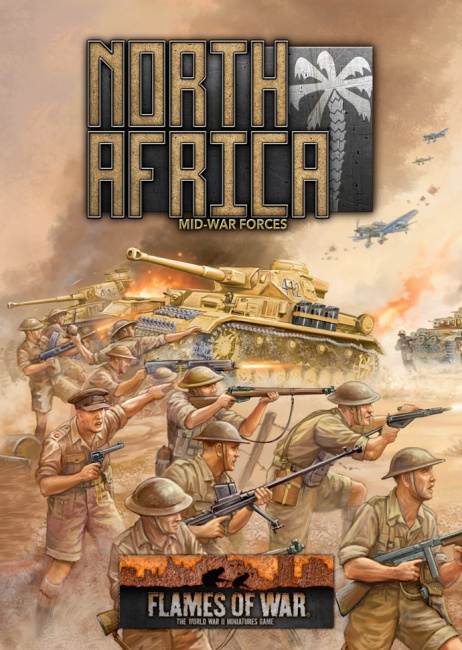 Battlefront Miniatures and Gale Force Nine will release the
North Africa: Mid-war Forces
book for the
Flames of War
tabletop miniatures game. The
British Crusader Armoured Squadron
is also on its way.
North Africa: Mid-war Forces offers updated army lists for the main protagonists in the Western Desert and Mediterranean theaters, including German, Italian, British, and American forces. The army lists include armored, mechanized, infantry, and airborne forces and feature elite specialists such as British Commandos and American Rangers. In addition, the book has detailed histories of the units involved in the conflict and painting guides to help players develop and paint their armies as well as color photos of painted models.
MSRP is $50.00.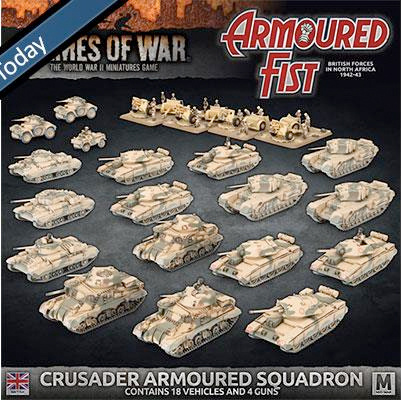 The
British Crusader Armoured Squadron
provides a full British North African fighting force. This all-plastic model kit includes 15 tanks, 4 armored cars, and 4 25 pdr guns along with a complete "Start Here" rulebook, decals, and unit cards. MSRP is $110.00. All models supplied unpainted. Assembly required.
Click Gallery below to see images from the book and models from the kit.
Gale Force Nine will also soon release an expansion for its Dune board game (see "Galeforce Nine Announces 'Dune: A Game of Conquest, Diplomacy & Betrayal' House Expansion") and a new Doctor Who board game (see "Gale Force Nine Will Release 'Doctor Who: Don't Blink' into U.S. Retail