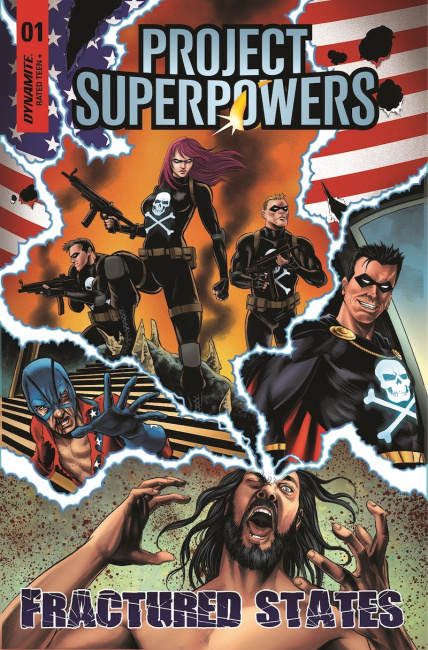 Project Superpowers
is back with a new creative team and a new story set 30 years in the future.
Dynamite Entertainment announced plans today for a new Project Superpowers series, written by Ron Marz and Andy Lanning, who recently teamed up on Justice League: Endless Winter. Emilio Ultrera will be the artist.
Originally created by Jim Krueger and Alex Ross, Project Superpowers features a cast of Golden Age superheroes and is set in an alternate version of the U.S. that has become a totalitarian state (see "Interview with Alex Ross").
While earlier series were set in the mid-20th century and in the present, this new series will take place in 2052 and kicks off with a mysterious naked man awakening with no memories into a world that has been devastated by environmental disasters and racked by bitter internal divisions. The first issue will be released in April with covers by Mike Rooth, Geraldo Borges, Paula Andrade, Rus Wooten, and Gary Frank; Flash artist Scott Kolins will contribute covers for future issues.
"When we were digging into the previous material, we noticed a plethora of patriotic characters," Marz said in a statement in the official announcement. "Obviously, that makes complete sense, as many of them date to the 1940s, when America was fighting real-world fascism. That seemed like a viable avenue to explore, since America is dealing with its own fascist impulses right now. It allows us to dig into larger themes like the American dream, and what it means to be American. It's all presented in the guise of a superhero story, but we wanted to make sure we had underpinnings of some meaty stuff in there."
In addition to Chapter One and Chapter Two of the original series, Dynamite has published several spinoffs, including Project Superpowers: Blackcross Collection (see "Warren Ellis' 'Project Superpowers: Blackcross'") and Project Superpowers: Hero Killers (see "Preview: 'Project Superpowers: Hero Killers' TP"). In 2018 they published an omnibus edition collecting the entire original series plus some previously unpublished stories (see "Alex Ross Cracks Open 'Project Superheroes' in New Omnibus").
Click Gallery for covers!