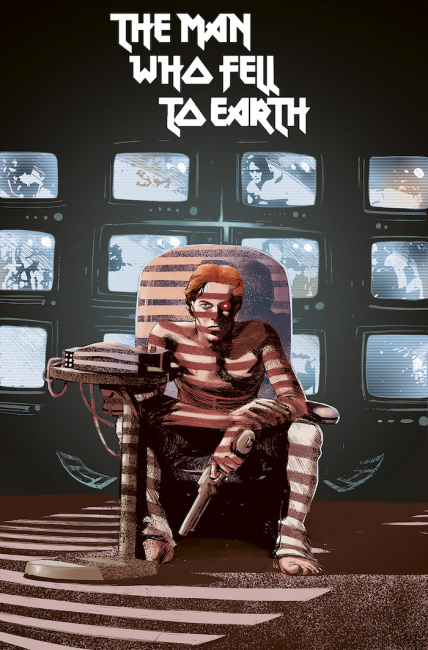 Titan Comics has announced it will publish an authorized graphic adaptation of the 1976 cult film
The Man Who Fell to Earth,
which featured David Bowie in the lead role of an alien who travels to earth looking for a way to save his home planet. Dan Watters, the writer of Titan's
Cowboy Bebop
comic, and artist Dev Pramanik (
Dune: House Atreides
) will adapt the film into graphic novel form.
The Man Who Fell to Earth
will be published in Fall 2022 as a 128-page hardcover with an MSRP of $29.99.
The film was itself adapted from a 1963 novel by Walter Tevis, who also wrote The Hustler and The Queen's Gambit. Bowie's character, Thomas Jerome Newton, travels to earth to find a way to ship water back to his planet, which was stricken by drought, but he becomes increasingly tangled in human affairs and never completes his mission. Directed by Nicholas Roeg, the movie also starred Candy Clark, Buck Henry, and Rip Torn.
"The Man Who Fell to Earth is a masterpiece of a film with an awful lot to say; about men, about the Earth, and lots of things in between," said Watters in Titan's announcement. "There are ideas in the film, about climate crises and corporate greed, that are more relevant now than they were when Nicolas Roeg set out to make it. And now here we are. I think it's high time to look at the world through Thomas Newton's mismatched eyes all over again. Perhaps he'll see something we've been missing."
NBM plans to publish a bio-comic about Bowie later this year (see "NBM to Publish Bowie Bio-Comic in Summer 2022").
Click Gallery to see preview pages!