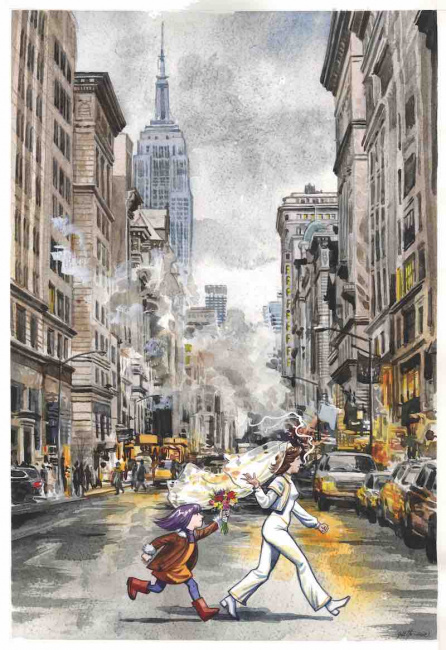 The newest series from Ahoy Comics is
G.I.L.T.,
by Eisner-nominated writer Alisa Kwitney and artist Mauricet, and it will feature a special variant cover by
Scary Godmother
creator Jill Thompson.
G.I.L.T. stands for Guild of Independent Lady Temporalists, and Hildy Winters is a member, with a time-travel portal in her Upper West Side co-op. When she takes a trip back to 1973, she accidentally brings along Trista, a burnout health care aid, and things start unraveling from there. The series will launch on April 6, and issue #1 will have a cover A by Mauricet and cover B by Thompson. Retailers can order one cover B for every two cover As.
Thompson, whose work includes The Sandman and Beasts of Burden, was inducted into the Harvey Awards Hall of Fame in 2020 (see "Osamu Tezuka, Jill Thompson, Milestone Founders Named to Harvey Awards Hall of Fame"). Kwitney's work includes Rogue: Untouched and The Sandman Presents, and Mauricet was the artist for Garth Ennis's take on Dastardly & Muttley (see "'Dastardly & Muttley'").
Click Gallery for covers!