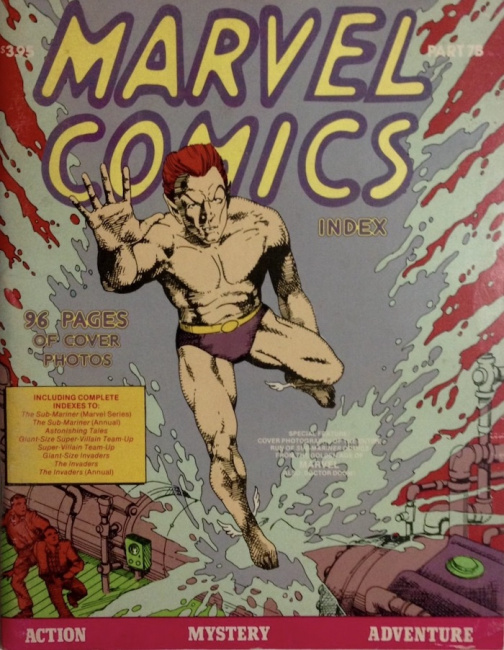 George Olshevsky, whose contributions to comics collecting and scholarship included creating indexes of Marvel and DC comics and contributing articles on comics history to the
The Overstreet Comic Book Price Guide,
died on December 12 at the age of 75.
Olshevsky worked with Lou Mougin and others to create a complete index of all Marvel Comics titles in the 1970s and the early 1980s. The indexes were originally published independently with Marvel's permission, but in the 1980s Olshevsky worked directly with Marvel to produce new and updated indexes that were published by Marvel. He also created indexes of DC's Teen Titans and Justice League of America comics.
In addition to his indexing work, Olshevsky owned a typesetting machine and typeset the program and other publications for Comic-Con International in San Diego, as well as solicitations and other material for Pacific Comics. Pacific's David Scroggy reminisced about Olshevsky in an article in Scoop:
George had a big typesetting machine that dominated the living room of his modest Linda Vista apartment. The typeset copy would spool out of this electric piano-like contraption, unwinding from rolls of white glossy paper that could be easily sliced up and pasted down. George would hold forth, shirtless, sitting in a cheap lawn chair like the grand poohbah wizard on his throne. No spell-checker or editor was required – George's amazing brain automatically corrected grammar and spelling errors. And was he ever fast! He could type as quick as I could talk, and the printed copy flowed like a waterfall out of the machine, piling up on the floor. It was really something to see."
Olshevksy had a complete collection of Marvel Comics, and he had a fan letter published in Doctor Strange #169, while he was still at MIT (this issue was one of the many that he later indexed).
"His contribution to fandom in those early days, particularly his Marvel indexes, helped readers to understand their collections and their context," said Robert M. Overstreet, author and publisher of the Overstreet guide, said in the Scoop article. "Like so many others, I believe his efforts to document and organize paved the way for the current era, when we have so much information at our fingertips."
Olshevsky graduated from MIT in 1969 with a bachelor's degree in mathematics and went on to earn a masters degree in mathematics and computer science from the University of Toronto, graduating in 1977. When he wasn't indexing comics, Olshevsky was doing something very similar with dinosaurs, although as he told the Los Angeles Times in a 1990 interview, "As it turns out, collecting information on dinosaurs is a lot harder than collecting comic books."