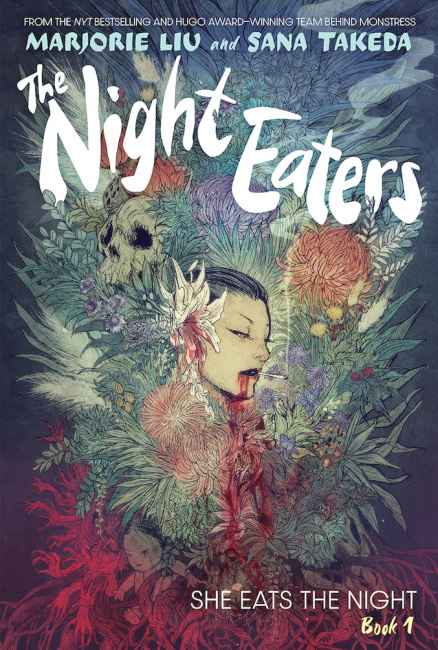 Abrams ComicArts has acquired
The Night Eaters,
a new graphic trilogy by writer Marjorie Liu and artist Sana Takeda, the creative team behind Image Comics' best-selling and award-winning
Monstress.
Abrams announced that the first volume, slated for October release, will have a first printing of 100,000.
The story centers on a Chinese American family. Twins Milly and Billy are running a struggling restaurant. Their parents, Ipo and Keon, who immigrated from Hong Kong before the twins were born, visit them to help, and when the twins and Ipo clean up a neighboring house that was the scene of a gory murder, terror ensues.
"I cannot begin to express how delighted I am to be creating another series with Sana Takeda," Liu said in a statement accompanying the announcement. "The Night Eaters is an exciting shift for us, both in art and writing style—a contemporary Asian American horror story and urban fantasy—and we are deeply grateful to Abrams ComicArts for this opportunity to push ourselves creatively."
Monstress has been a best-seller for Liu and Takeda; all six volumes were on Diamond's most recent list of top-selling graphic novels (see "Diamond Top 400 Graphic Novels—January 2022"). The series has won five Eisner and four Hugo awards and was named Book of the Year in the 2018 Harvey Awards (see "Harvey Awards Go to 'Monstress,' 'Black Panther' Movie").