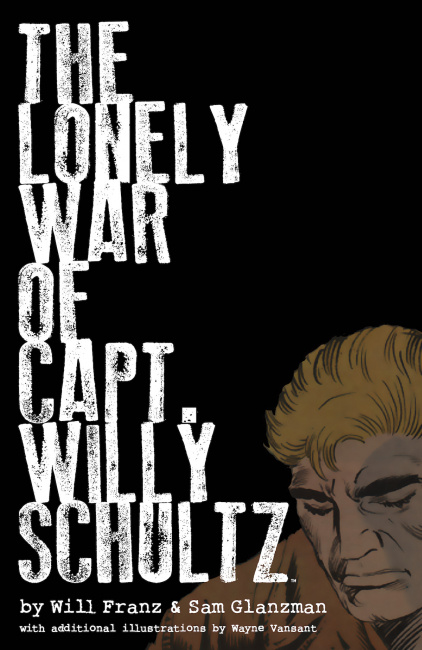 Dark Horse will publish a new edition of
The Lonely War of Capt. Willy Schultz
by writer Will Franz and artist Sam Glanzman, with additional material by Wayne Vansant and an essay by comics creator and scholar Stephen Bissette.
The comic is being jointly published by Dark Horse Books and It's Alive. The book was funded by a Kickstarter that was launched in 2018 and garnered $31,824 in pledges from 555 backers, exceeding its initial goal of $20,000. Dark Horse will publish the book as a hardcover that will be released to comic shops on October 19 and to the book channel on November 1.
The Lonely War of Capt. Willy Schultz was originally serialized by Charlton Comics, starting as a feature story in Fightin' Army #76, which was published in 1967. Charlton later reprinted it in several different formats, and Avalon Communications published it as a four-issue series in 1999 and 2000.
The story was controversial when it was first published. Set during World War II, it follows an American captain, Willy Schultz, who is convicted of a murder he didn't commit but manages to escape as he is being driven to his execution. He poses as a German soldier and then has several other adventures while trying to prove his innocence. Franz was only 16 at the time he wrote the comic and was opposed to the Vietnam War, a sentiment that was shared by many readers. In fact, according to the original Kickstarter, the cancellation of the comic came about because of pressure on Charlton by the U.S. military, who had determined it was causing an increase in conscientious objectors.
Whatever the case may be, the story was left unfinished at the time. When It's Alive picked it up, Glanzman (himself a World War II veteran) was unable to complete the artwork and asked them to find another artist. They chose Wayne Vansant, who served in the navy during the Vietnam War and has made his career drawing war comics. The hardcover will present the complete story along with Bissette's essay on the history of the comic.