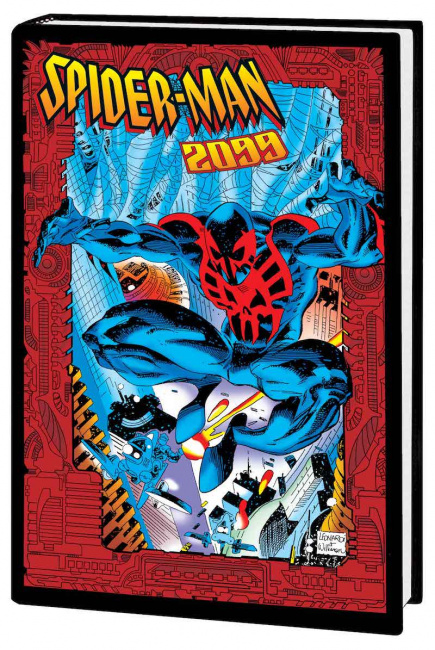 Marvel Comics will collect the full run of the 1990s Spider-Man 2099 in a single, 1,384-page omnibus to be released on October 26 with an MSRP of $125. The standard edition will have a cover by series artist Rick Leonardi, and the direct-market only variant will have a cover by Jim Fern.
The omnibus will collect Spider-Man 2099 (1992) #1-46 and Annual #1, Ravage 2099 #15, X-Men 2099 #5, Doom 2099 #14, Punisher 2099 #13, Spider-Man 2099 Meets Spider-Man, and Spider-Man 2099 Special. Peter David wrote the series for most of its existence, and Leonardi was the artist. Other creators whose work is included are writers Ian Edginton, Ben Raab, Terry Kavanagh, Pat Mills, Tony Skinner, John Francis Moore, Jon Peterson, and Mark Waid and artists Kelley Jones, Tom Grindberg, Ron Lim, Chris Batista, Jim Fern, Joe St. Pierre, David Boller, Roger Robinson, Andrew Wildman, Keith Pollard, Mike McKone, Malcolm Davis, Grant Miehm, Pat Broderick, Tom Morgan, and Gabriel Morrissette.
The series was launched in 1992 as part of the Marvel 2099 line and ran until 1996. Marvel will launch a sequel series, Spider-Man 2099: Exodus, in May (see "Preview: 'Spider-Man 2099: Exodus' Covers & Character Designs").
Click Gallery for covers!