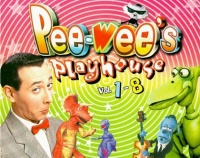 Image Entertainment has announced the acquisition of the DVD rights to Pee-wee's Playhouse. The company will release two boxed sets containing all 45 episodes of the series this fall. That includes six episodes that were not released on VHS with the rest of the episodes in the 80s and 90s. PeeWee's Playhouse Christmas Special will also be released on DVD.
In 2005, the definitive collector's edition will be released as a specially packaged limited edition with all 45 episodes, commentary by series creator Paul Reubens, and 'additional bonus material culled from Reubens' vast show archives.'
Pee-wee's Playhouse aired from 1986-1991 and got top ratings and 22 Emmys while it was on the air. It starred not only the brilliant Reubens, but also featured set designs by comic artist Gary Panter, music by Cyndi Lauper and Danny Elfman, and performances by Laurence Fishburne and the late Phil Hartman, among others.
The series also spawned numerous toys, which continue to be active among collectors (an eBay search for 'talking Pee-wee' gets 26 auctions).