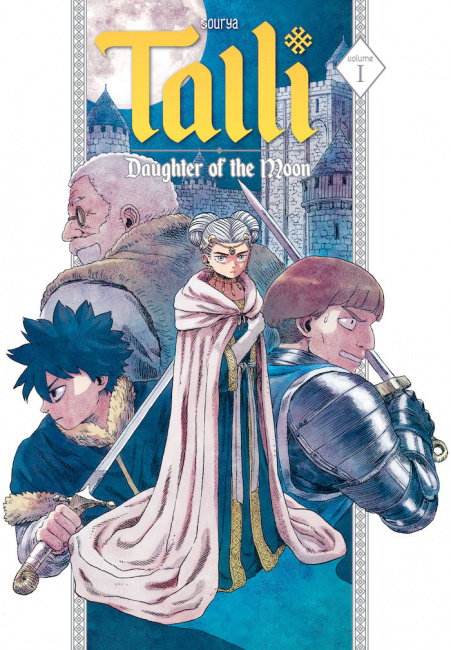 Today we have an exclusive announcement and preview: Oni Press will publish
Talli: Daughter of the Moon,
a fantasy adventure for young teens by the French-Laotian animator Sourya, translated by Francois Vigneault.
Talli is a girl with a secret: She is a Summoner, one of the few remaining members of a people who have mysterious powers. The others in their world hate and fear the Summoners, but Talli was adopted as a baby by Lord Borin and lived in safety in his castle for years. Then one night, Lord Borin's enemy, Lord Ulric, attacks the castle, and Talli slips away with the help of a knight, Sir Alan. With Ulric's Captain Nina in hot pursuit, they flee across the countryside gathering an unlikely group of allies along the way. But all is not what it seems, on both sides of the chase: Captain Nina doesn't know that Talli is a Summoner, and Sir Alan may have ulterior motives. The black and white artwork is a fusion of manga and French bande dessinee styles.
Oni will publish Talli: Daughter of the Moon as a 168-page paperback on September 28, with an MSRP of $19.99.
Sourya is a French-Laotian cartoonist and animator who lives in Angouleme. He is a graduate of the Angouleme School of Animation Cinema and has worked on several animation projects; he won an award in 2009 for The Piano Lesson, his entry in the Canal J competition Les Espoirs de l'Animation. He was one of the contributors to Spera: Ascension of the Starless, which was published by Archaia in 2014 (see "'Spera: Ascension of the Starless' Vol. 1 OGN")
Click Gallery below for preview!
Click here for more ICv2 Kids Week articles on kids comics and graphic novels!