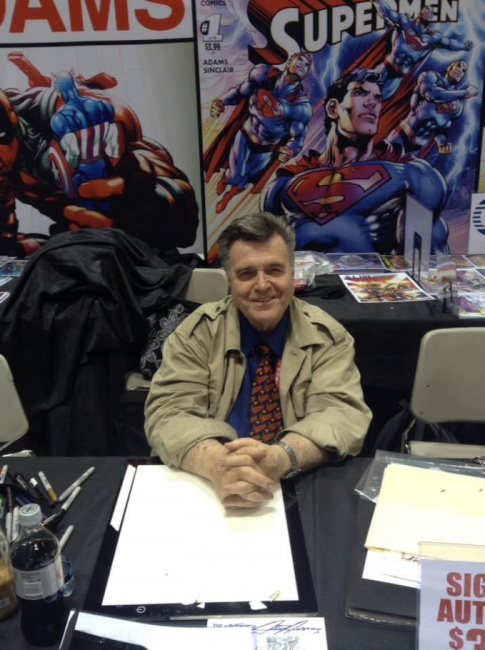 Comic artist and creators' rights advocate Neal Adams died on April 27 at the age of 80 from complications of sepsis, according to
The Hollywood Reporter
.
Born in 1941 in New York City, Adams attended the School of Industrial Arts high school, whose other comics alumni include Alex Toth, John Romita Sr., and Art Spiegelman. After graduating in 1959, Adams started out doing art for Archie Comics and then drew the Ben Casey newspaper strip in the early 1960s. In 1967, he got his foot in the door at DC Comics drawing war comics. This was the beginning of a career that would span over 50 years, in which he had significant runs on
Deadman, Batman, Green Lantern/Green Arrow,, and X-Men
among others, sometimes plotting or scripting the stories as well as drawing them. He also was known as a cover artist.
In addition to being one of the most prominent artists in the industry, Adams was also well known as an advocate for creators' rights. He was instrumental in the movement to convince Marvel Comics to return original artwork to creators, and he campaigned to get the creators of Superman recognition for their original creation as well as payments from DC.
In a 2008 NYCC panel, former DC Comics CEO and Publisher Paul Levitz remembered when he met Adams at a convention in 1971 (when Levitz was about 15) and learned a lesson about creators' rights:
Neal Adams was at perhaps at the first crest of his career (he's had several), doing things like Green Lantern, Green Arrow. I got him to do a sketch of Superman, a very, very quick sketch, just sort of a Superman head, for the enormous sum of $6, and as a young kid then immediately ran it on my fanzine two or three months later as the cover. I got an energetic lecture from Mr. Adams educating me on the difference between original art purchase price and reproduction right purchase price, which is something that has served me well in my understanding over the years, as I started to learn that original art should be returned to artists in the deal.
(see "Phil Seuling and the Early NY Comic Conventions")

Extending his work beyond comics, Adams' Continuity Studios was a full-service production company and a source of concept art, illustration, commercials, and other creative work for a variety of high-profile clients.

During his lifetime, Adams was honored with numerous awards; he was inducted into the Eisner Awards' Will Eisner Comic Book Hall of Fame, the Harvey Awards' Jack Kirby Hall of Fame, and the Inkwell Awards' Joe Sinnott Hall of Fame.