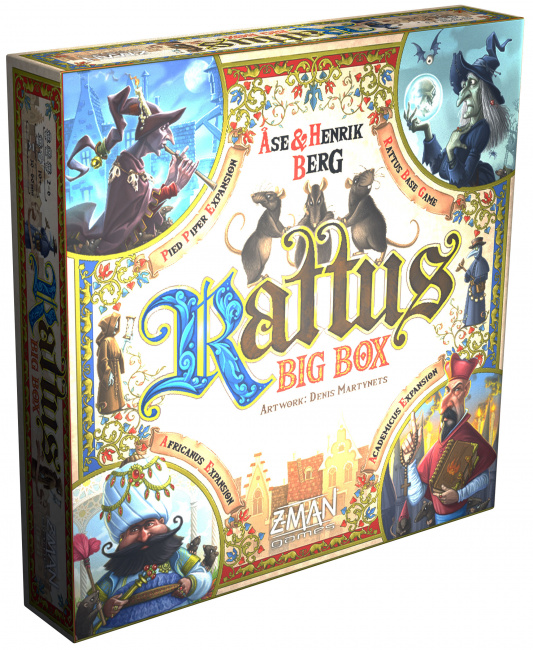 Z-Man Games announced
Rattus Big Box
, a new edition that includes three expansions, for release in October 2022.
Rattus, a game where players try to expand their population across Europe in the face of a deadly plague, first hit the market back in 2010 (see "'Rattus'"). The new Big Box comes with its three expansions: Pied Piper Expansion, Africanus Expansion, and Academicus Expansion. It also has new cover art and includes previously unpublished materials and bonus cards.
The game box comes with 3 game boards, 65 Rat tokens, 30 Potion tokens, 33 Class cards, 30 Event cards, 68 Region cards, 30 Victory point/University tokens, 27 double-sided Upgrade tiles, 120 wooden Citizens, 2 wooden Universities, 3 wooden Walls, 2 wooden Bishops, 3 wooden Nuns, 15 wooden Diplomat podiums, a wooden Caravan, and a wooden Plague piece. This game is for two to six players, ages 10 and up, and plays in 30-60 minutes. It will retail for $69.99.
Click on Gallery below for full-size images!