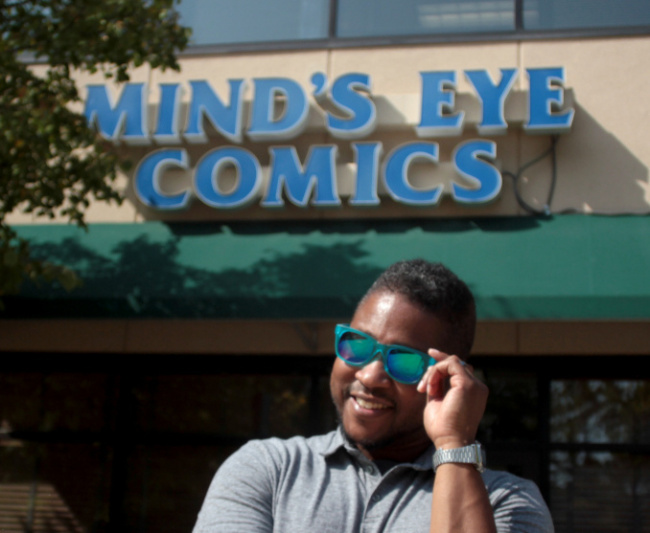 In Business 3x3, a business retailer or executive will share their experience with three things they've done right, three things they've done wrong, and what else they've learned along the way.
Eric Childs always had aspirations to be an artist. As a kid, he mowed lawns to earn money to get business cards printed up for his soon-to-be comic company. Never mind that the company hadn't made any comics yet.
Childs put a practical spin on his aspirations, and eventually ended up with a degree in computer animation. He parlayed that into a job working on package design and brand management for major companies. Remember the lenticular McDonalds Happy Meal cups from the 2014
LEGO Movie
? That was Childs' work.
Childs may not have wound up with a comic company (yet), but circumstance dealt him a comic store.
"Mind's Eye Comics was my favorite comic shop I had gone to since 1998," Childs says. "Twenty years later, the owner was looking to retire, so he announced he was closing the store. It was heartbreaking when I saw the signs. I was so upset that I asked if he had considered just selling it. He said no, he wasn't looking to deal with investors and business people, but for me… he would consider it."
Childs arranged a sit-down with the owner, Andrew Troth, and Troth decided Childs' heart was in the right place. That was the most important thing to Troth and on April 24, 2018, Childs took over as the new owner of Mind's Eye Comics.
"This was a special place to me that I shopped at as a kid, then I went to college, got married, had kids, and now I bring my kids here," Childs says. "This place had to be preserved for future generations."
What has Child learned in this new journey? Glad you asked…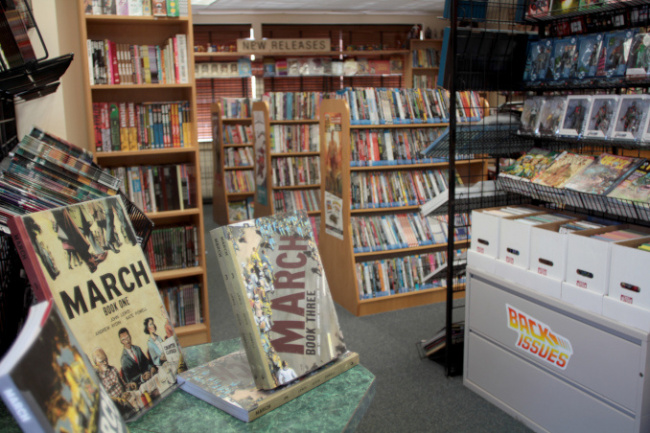 THE GOOD
LEAN INTO EDUCATION
Childs understands the power of words and pictures working together.
"My 4th grade teacher used comic books to encourage kids to read in school, so comics are important to me as more than just a form of entertainment," he says. "So we carry a lot of historical graphic novels, Black history in particular. We make ourselves available to teachers as a source for coursework. In 6th and 7th grade locally, they teach the book
The Giver
; it's required reading. We carry the graphic novel adaptation of that book, and it's important because some teachers would rather change things up for their students, give them something other than just straight prose to engage the students, keep them reading and keep them interested in class."
Childs is particularly proud of his Black history section. The titles are myriad, but a few of the solid go-tos include
James Brown: Black and Proud
by Xavier Fauthoux,
Harlem Hellfighters
by Max Brooks,
Invisible Men: The Trailblazing Black Artists of Comic Books
by Ken Quattro, and of course, the
March
series by John Lewis.
UP YOUR ONLINE PRESENCE
Yes, Virginia, in 2022, there are STILL stores without a simple website or social media presence. Childs was determined to make sure Mind's Eye was not one of them.
"Social media was nonexistent for the store when I took over, and I knew it was necessary to be relevant tomorrow, to say nothing of today," he says. "So now you can find us on Instagram, Facebook, Twitter. And there was no website previously. We've really grown our online commerce with the website."
The commerce is good, but Childs thinks the outreach is just as important.
"It's a way you establish your reputation with fans both locally and all over the world," he says. "We let them know we don't just sell comics, but we love them ourselves and create them ourselves. My manager here is an illustrator and so am I. We're working on books right now."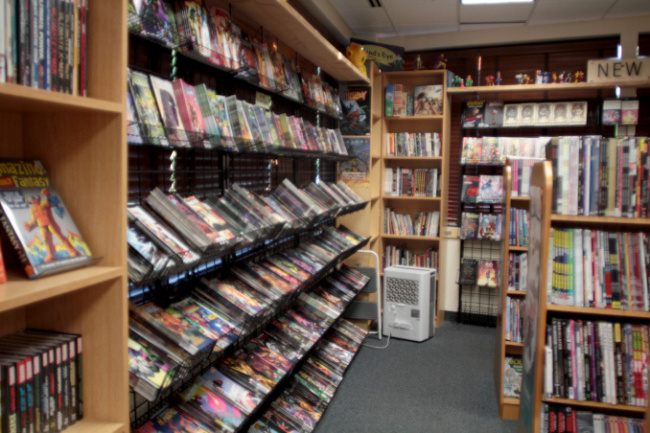 ENGAGE THE COMMUNITY
Childs says under previous ownership, Mind's Eye had a wide selection, good presentation, and excellent customer service. He's done his best to maintain all those, but has expanded the store's footprint into the community at large.
"We take the brand and attend local comic conventions," he says. "But you can't just wait for shows to come up. You have to be creative with holidays, community events and so on."
Childs recommends joining your local chamber of commerce, attending events, and working with them. Childs also took advantage of a recent National Night Out.
"I rented a DeLorean, all fitted out to look like a replica from
Back to the Future
, we had Ghostbusters cosplayers, set up a tent, handed out free comics," Childs says. "We wanted to generate buzz, let people know we're here, hand out free comics. It wasn't a comic con, but it's a night when everyone's out with the whole family."
THE BAD
UNDERSTAND A NEW BUSINESS… IS NEW!
Childs says he did his research before buying Mind's Eye.
"It was a reputable brand, it had subscribing customers," he says. But maybe he didn't do
all
the research.
"When it came to me as a new business entity trying to get working capital… the bank will say, 'You've got an existing business, but
you
are new, '" Childs says. "And you start at ground zero."
Bottom line? It was not easy for Childs to get financing early on. So he went the friends-and-family route, and even raised $11,000 through a GoFundMe campaign.
"It prevented a collapse early on," he says.
YOU CAN'T UN-RING A BELL
There was one more major hurdle for Childs to overcome in his earliest days.
"I wasn't just a new business, I was a business too many people assumed was already dead," he says. "It was announced that the business was closed, it got picked up on by local media, national geek media and so on. There were way more people saying, 'Oh, this is heartbreaking' than were saying, 'No, Mind's Eye is still here.' A lot of people were under the impression that the business had closed. I hadn't taken into consideration that once it's announced a business is closed, in the minds of many, that business is done."
Childs says his new social media and online presence helped turn the tide.
"It let people know we were still here," he says. "It's still an uphill battle, but we're winning that war."
FIND A WAY TO GET THOSE EXPERTS
Yeah, some of the early problems could have been mitigated if Childs had deeper financial expertise or was able to hire experts. That's a chicken/egg problem he's still wrestling with.
"When it comes to finance and finding out what the cost of doing business actually costs… it's just tough," he says. "And there's another situation when it comes to taxes and not having a CPA early on. There were mistakes made there, which were costly. My most negative impacts come from me as a small business owner trying to wear too many hats."
Childs knows he overreached, and is fast battling back.
"Early on, you don't necessarily have the money to hire all the experts, all the key players you're going to need, so you wind up stretching into areas you're not necessarily an expert at," he says. "I have
no
problem admitting I'm not an expert at these things! But in the early days, it was a matter of economics."
AND WHAT ELSE?
"I asked our sales rep for some samples on the lenticular McDonalds cups. I thought that was cool, right? I'd get a big win, give each of my kids a whole set of eight cups. I brought 'em home, gave them to my kids, and they were like, 'That's nice, dad. But where's the Happy Meal?'"
"You know, I gotta change the website now! I have the store address and hours in the lower left, not the upper left. But I have a reason I did that! It was my years in marketing and all, I was approaching it like package design. I just applied that logic to the website. But the website is
not
a package on a shelf at the store. I have to change that."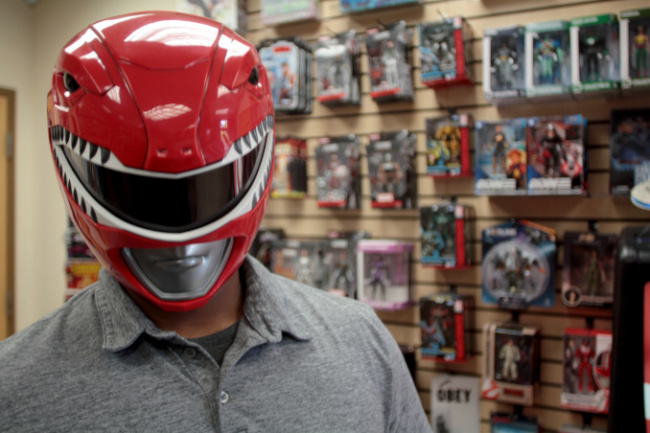 "People always say, 'don't reinvent the wheel.' Well, I think they advise at least rotating the tires. Maybe you don't want to reinvent it, but you have to at least shake things up a bit, try a few new things."
"People will say, 'This looks like a Barnes and Noble, but for comics.' By having that look, a very mainstream retail look, we encourage all kinds of shoppers. We have grandparents buying gifts for grandkids."
"A man I met at a business function asked if I was the only Black comic store owner in the Twin Cities. I didn't know, I hadn't really thought about that. But he said he'd do the research, and sure enough, he got back to me and said I was the first in the entire state of Minnesota. He said he'd mention it to someone who might find it interesting, and that person was a reporter for one of the local TV stations. She contacted me, and did a pretty amazing piece on us. It was February, Black History Month, I'm the Black comic store owner carrying Black history graphic novels on the shelves. And business went through the
roof
after it aired… for about two weeks. Then COVID-19 hit, and everything shut down."
"Aisle space is also crucial. I tried to pack as much product as I could into this store when I opened, but then I thought, 'there's gotta be a rule on aisle space to be ADA-compliant.' Sure enough, I looked it up, and for small retailers you cannot have an aisle space less than three feet in width. So I restructured the store floorplan so we'd have three feet of aisle space everywhere. Sure enough, first day, someone comes in in a wheelchair. And they were able to get through the aisles comfortably, shop the shelves, and they had a great experience. My eyes were opened. I thought 'Wow. Imagine if I hadn't done that.'"
"When it comes to hiring… I can't stress enough how important it is to spell things out correctly when you're onboarding someone. It is tough to find talented people to come work for you."
"Congress has highlighted people in a program they call Main Street Champions, small businesses that have persevered and done great things for their community. I was selected last year as the Main Street Champion for Minnesota District 2, represented by Angie Craig. I had the opportunity to speak before Congress, and those words are on the Congressional record forever. That's one of the really big highlights for me."
"I don't think I have or I can ever say 'thank you' enough. So anyone reading this, all the fans, all our customers, all the people who stepped up through this pandemic, found ways to show support for us… you can never say thank you enough, and I'm sure I've missed opportunities. So thank you."
Click Gallery below for store pics!