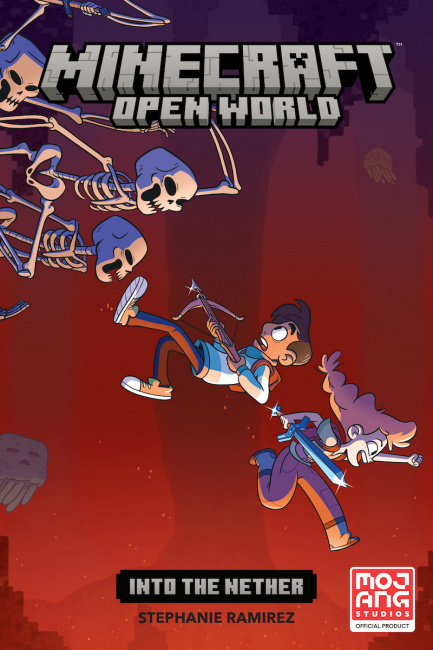 Dark Horse will publish a new Minecraft original graphic novel, and the publisher is also bundling its six earlier Minecraft books into two boxed sets.
The new original graphic novel, Minecraft: Open World—Into the Nether by Stephanie Ramirez, follows a girl named Sarah who is a newcomer to the game and forms an initially uneasy alliance with a veteran player, Hector, who is used to exploring the Minecraft world with his parents, not players his own age. The paperback book is rated for readers ages 8 to 12 and will be published in bookstores on October 25 and comic shops on October 26 with an MSRP of $10.99.
The boxed sets collect two trilogies. Minecraft Boxed Set collects Minecraft, Vols. 1-3, by Sfe R. Monster and Sarah Graley, plus an exclusive poster by Graley. Minecraft: Wither Without You collects that three-volume series by Kristen Gudsnuk, along with a poster by the artist. Both will be released on October 11 in bookstores and October 12 in comic shops with an MSRP of $32.97.
Dark Horse has been publishing Minecraft graphic novels since 2019 (see "'Minecraft' Gets Publishing Program").