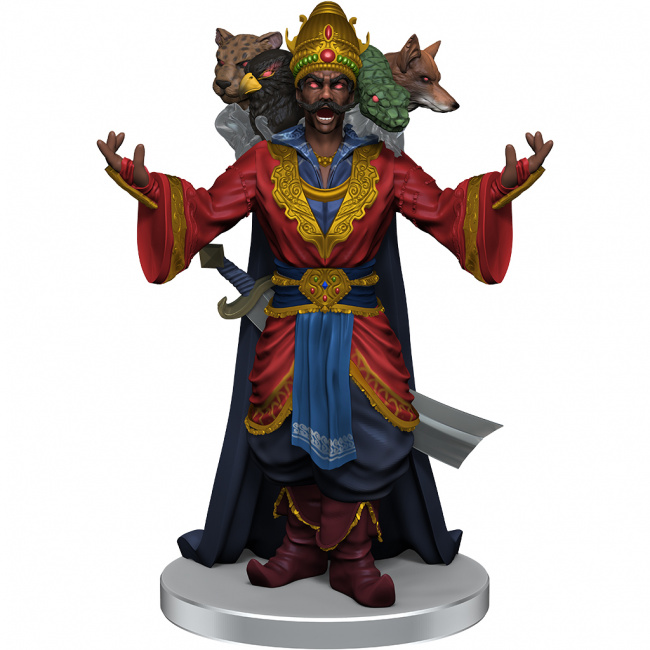 WizKids revealed
Masters of Magic Boxed Set
and
Heroes and Villains Boxed Set
for the
Pathfinder Battles: Impossible Lands
line, which will release into retail in November 2022.
These two sets feature character miniatures for Paizo's Pathfinder Lost Omens: Impossible Lands book, which is headed to stores on November 16, 2022. Masters of Magic Boxed Set showcases an array of spellcasters and magical entities. It comes with an Ifrit Pyrochemist, a Manticore Paaridar, a Geb, an Anong Aronak, a Japalisura Asura, a Rakshasa Maharaja, a Nex, and a Nethys, God of Magic.
The Heroes and Villains Boxed Set comes with an array of new PC and NPC miniatures. This set features a Vishkanya Infiltrator, a Shield Marshal, a Student of Perfection, an Oread Guard, a Suli Dune Dancer, a Sylph Sneak, a Vanara Disciple, and a Ghoran Manipulator.
Each of these sets will retail for $49.99.
WizKids also unleashed Adult Umbral Dragon, a new boxed figure for Pathfinder Battles: Impossible Lands, into retail (see "WizKids Unleashes 'Adult Umbral Dragon'").
Click on Gallery below for full-size images!