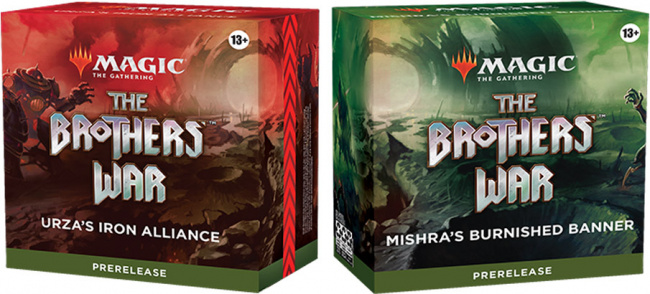 Wizards of the Coast updated details for the release of
Brothers' War
, a new booster set for
Magic: The Gathering
.
The Brothers' War product line revolves around the epic battle between Mishra and Urza, and features two different flavor packaging types for the prerelease kits (see "The Brothers' War Product Line"). These two prerelease packs have similar contents, the only difference is the packaging features two different covers: one for "Urza's Iron Alliance" and for "Mishra's Burnished Banner." Additionally, WotC revealed the next wave of Magic 30th Anniversary promos, which include: Wall of Roots, Wood Elves, Windfall, and Loyal Retainers in Chinese (Simplified).
Also, Brothers' War scheduling for retailers was officially opened up on August 18, 2022. The important dates for this set are as follows:
Distributor Lock Deadline: September 3, 2022
Prerelease: November 11-17, 2022
Launch Party: November 18-20, 2022
FNM Dates: November 18, 2022 to January 20, 2023
Commander Nights: November 21, 2022 to January 26, 2023
Game Day: December 3-11, 2022
For more information on future releases of Magic products, check out ICv2's 2022 calendar (see "'Magic: The Gathering' Release Calendar For 2022/2023").
Click on Gallery below for full-size images!