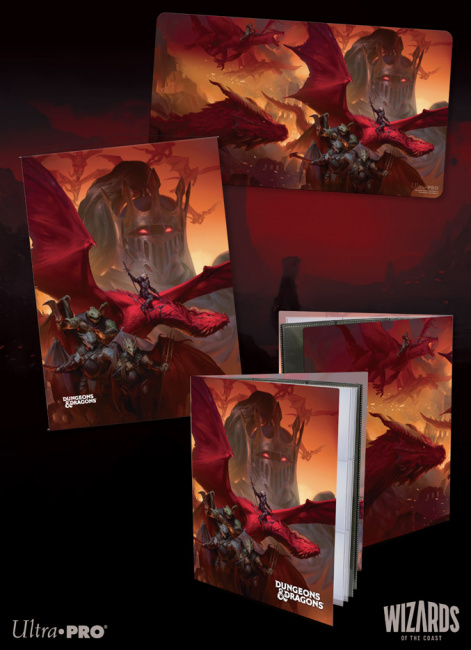 Ultra PRO revealed
D&D Dragonlance - Shadow of the Dragon Queen
RPG accessories for release into retail in December 2022.
This new line comes in lockstep with the release of the new D&D Dragonlance - Shadow of the Dragon Queen book and board game (see "Product Line Revealed"). There are three officially-licensed products in this line: a Character Folio, a Playmat, and a Wall Scroll. The Character Folio features a full-art cover, and allows players store their notes, character sheets, and spell cards inside. It has internal pockets, including 10 single-pocket pages for character sheets and notes, and two 9-pocket pages for standard-sized spell cards. The folio also comes with a sticker sheet that has a D&D Logo sticker, 13 Large Class stickers, 26 Small Class stickers, 12 Spell Card Reminder stickers, 8 fold-over tab stickers, and 2 binding edge stickers.
The Playmat features the D&D Dragonlance - Shadow of the Dragon Queen cover art on a soft fabric front with a rubber backing. The playmat can be used to protect cards, miniatures, or specialty dice, and is 24" by 13.5" in area. The Wall Scroll also features the same artwork on a silky fabric that is suspended by a hanging rod. It's dimensions measure 26.8" by 37.4," and is collapsible for easy storage.
Click on Gallery below for full-size images!