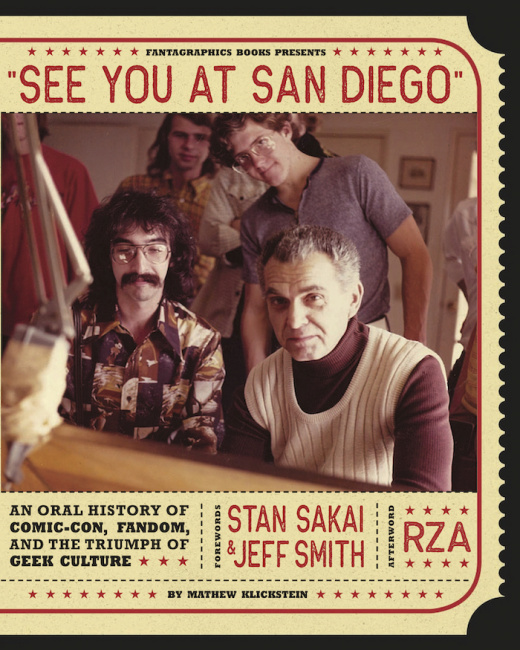 Fantagraphics Books will publish
See You at San Diego: An Oral History of Comic-Con, Fandom, and the Triumph of Geek Culture,
by Mathew Klickstein, on September 6. The 480-page paperback collects interviews with nearly 50 creators, media personalities and fans, including Sergio Aragones, Kevin Eastman, Neil Gaiman, Frank Miller, Trina Robbins, Stan Sakai, and Kevin Smith, along with over 400 illustrations, both photos and artwork. The book has forewords by Sakai and Jeff Smith and an afterword by RZA of the Wu-Tang Clan. The MSRP for the book is $39.99.
In a statement accompanying the announcement, Klickstein described geek culture: "People who speak a shorthand based on the singular universe built around certain niche passions. It's more than a subculture, but rather an entire network of interconnected and often overlapping nodes of fandom. The Marx Bros, Ray Bradbury, Flash Gordon, Bride of Frankenstein, Bruce Lee, Sailor Moon, all melding together and burbling a certain effervescent energy. I wanted to help organize and tell the story of how this all came together over the last century, focusing on the thrust of the before-during-and after the creation and expansion of Comic-Con over the past five decades in particular."
Klickstein's book joins several other accounts of Comic-Con and fan culture, including ICv2 columnist Rob Salkowitz's Comic-Con and the Business of Pop Culture and Jackie Estrada's Comic Book People (see "'Comic Book People: Photographs from the 1970s and 1980s'").