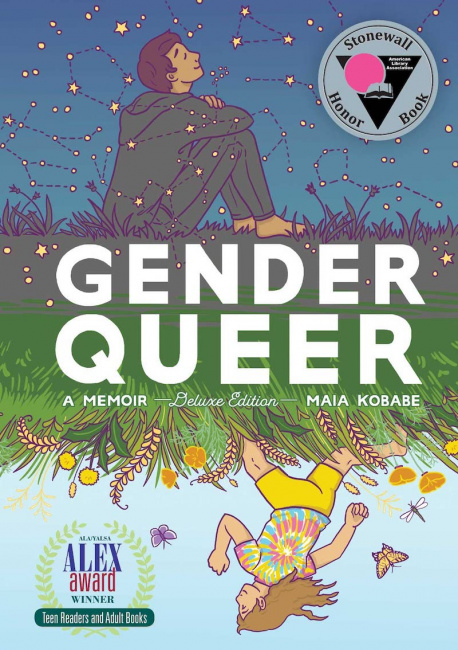 The Virginia judge who was asked to declare
Gender Queer
obscene not only did not do so, she struck down the statute as unconstitutional.
The case began in April, when attorney Tim Anderson, a member of the Virginia House of Delegates, brought the action on behalf of Tommy Altman, who at the time was a candidate for Congress (see "What's Next in 'Gender Queer' Case"). Under Virginia law, a citizen can petition a judge to declare a book or other work obscene, and that's what Anderson and Altman asked the judge to do. Had they prevailed, the book would be banned for sale everywhere in Virginia, not just in the county governed by the court, and anyone selling the book would be presumed to know it was obscene, without any notification.
In her two-page ruling, Judge Pamela Baskervill stated:
The particular declaration sought by Anderson and Altman, that the book be deemed "obscene as to minors," does not exist in Virginia law;
The petition "does not allege facts sufficient to support a finding" that the book is obscene;
The Virginia obscenity statute violates both the U.S. and the Virginia constitutions, because it authorizes prior restraint, because it presumes that anyone selling the book would know it was obscene, and because it authorizes judgment without notifying the affected parties.
"We're glad that the court dismissed this case and vacated its earlier order to show cause," attorney Jeff Trexler, who represented Kobabe on behalf of the Comic Book Legal Defense Fund, told ICv2. "This was the right thing to do - the statute is clearly unconstitutional, and the pleading was indeed defective in its failure to meet the basic requirements for finding a work obscene. That said, even if the Virginia legislature were to amend the statute, it wouldn't change the fact Gender Queer is not obscene – it's a graphic novel memoir with serious literary, artistic, political, and scientific significance. The petition should never have been filed; the real obscenity here was the attempt to ban this book."
However, Anderson said he and Altman will consider appealing the case to a higher court, and he also said that he will introduce a bill into the next session of the Virginia legislature to set up a ratings system for books, the Virginia Mercury reported.