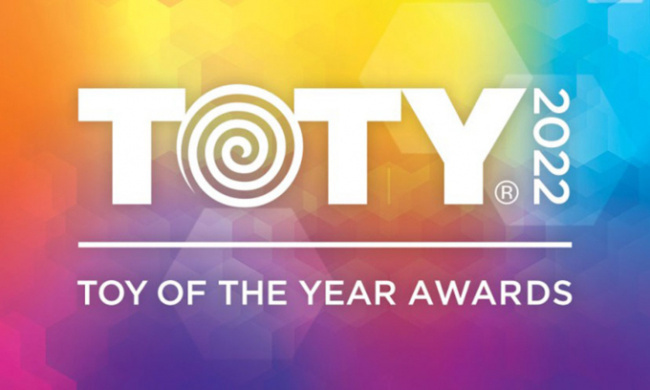 The Toy Foundation's Toy of the Year Awards announced that
Pokemon TCG: Pokemon GO Elite Trainer Box
by The Pokemon Company International is their 2022 Game of the Year.
Pokemon TCG has been the dominant force in the games space since 2021 (see "A New Year, A New King of the TCG Hill"), and the bestowing of the TOTY all but cements this trend in mass markets. The Pokemon Trading Card Game: Pokemon GO Elite Trainer Box was released over the summer (see "'Pokemon TCG: Pokemon GO'") as part of a bigger TCG product line revolving around the popular mobile game. It was named as a finalist for the 2022 TOTY in August (see "'Pokemon TCG'") and was up against Catch the Moon by Thames & Kosmos LLC, Connect 4 Spin Game by Hasbro, Inc., Mantis by Exploding Kittens Inc., Star Wars Villainous by Ravensburger, T.A.P.E.S. by Hog Wild, LLC, and Tacto Doctor by PlayShifu.
The following products were also announced as TOTY winners:
Action Figure of the Year. Jurassic World Dominion Super Colossal Giganotosaurus (Mattel)
Collectible of the Year. LEGO Minifigures The Muppets (LEGO Systems)
Construction Toy of the Year. LEGO MARVEL I am Groot (LEGO Systems)
Creative Toy of the Year. Magic Mixies Magical Crystal Ball (Moose Toys)
Doll of the Year. Black Panther: Wakanda Forever Fresh Fierce Collection by The Fresh Dolls (World of EPI Company)
Grown-Up Toy of the Year. LEGO Ideas The Office (LEGO Systems)
Infant/Toddler Toy of the Year. CoComelon Ultimate Learning Adventure Bus (Just Play)
License of the Year. Squishmallows (Jazwares)
Outdoor Toy of the Year. Twister SPLASH (WowWee)
Playset of the Year. LEGO Super Mario Adventures with Peach Starter Course (LEGO Systems)
Plush Toy of the Year. 16" Squishmallows (Jazwares)
Preschool Toy of the Year. Crayola Color & Erase Reusable Mat (Crayola)
Ride-On Toy of the Year. Mario Kart 24V Ride-On Racer (JAKKS Pacific)
Specialty Toy of the Year. Ann Williams Craft-tastic Nature Scavenger Hunt Potions (PlayMonster Group) and Snap Circuits: Green Energy (ELENCO)
STEAM Toy of the Year. Bill Nye's VR Science Kit (Abacus Brands)
Vehicle of the Year. LEGO Technic McLaren Formula 1 Race Car (LEGO Systems)
For more information on Pokemon TCG releases, check out ICv2's release calendar (see "Calendar").