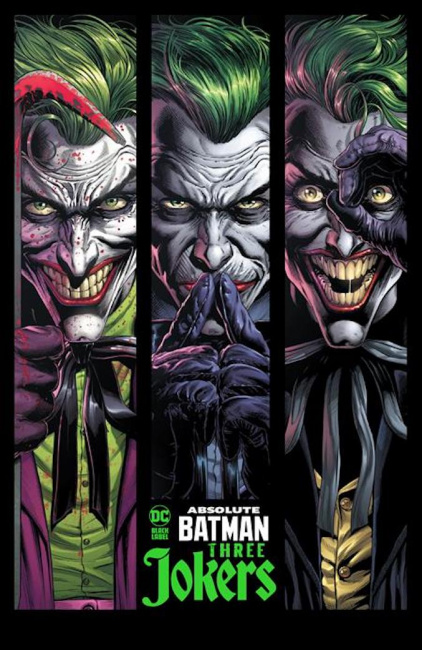 Batman: Three Jokers,
by writer Geoff Johns and artist Jason Fabok, will be published as an Absolute edition next spring, collecting the three issues of the original series in a slipcased hardcover edition with an 8" x 12" trim size, larger than the original comics. The 248-page
Absolute Batman: Three Jokers
is scheduled for May 23, 2023 release and will have an MSRP of $100.
The first issue of Batman: Three Jokers was published in August 2020, and the 52-page, $6.99 comic had orders of over 300,000 (see "Jim Lee: Bottom 29-25% of the DC Line Was Losing Money"). Issues #2 and #3 were 48 pages each and also priced at $6.99. The collected edition was released in November 2020 and sold well enough to make BookScan's top 20 graphic novels list that month, a rarity for a superhero title (see "November 2020 NPD BookScan"). Since the original collected edition was 160 pages, the Absolute Edition will presumably have some bonus material.