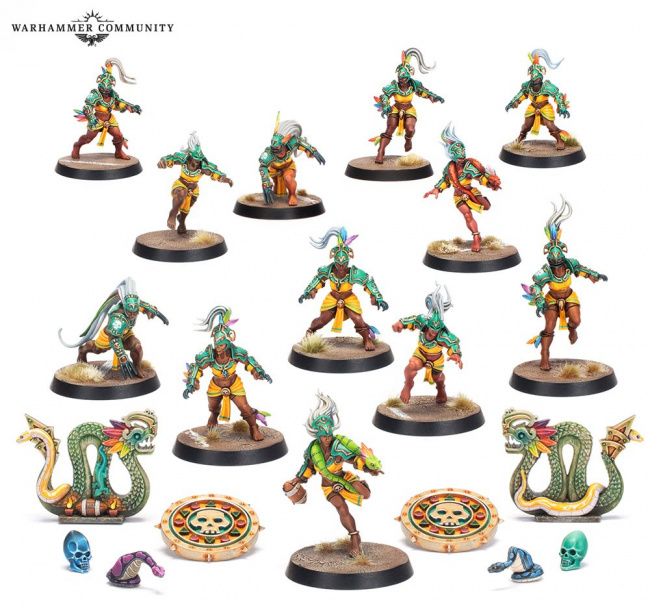 Games Workshop will release
Kara Temple Harpies
, for
Blood Bowl
fantasy football miniatures game, into retail in October 2022.
This new Amazon team for Blood Bowl comes to the pitch with speed and a primal competitive nature. The players in this set all have Dodge, and the Blitzers have the new Hit and Run trait that allows them to avoid backlash from a Block. The team features 6 Eagle Warrior Linewomen, 2 Jaguar Warrior Blockers, 2 Python Warrior Throwers, and 2 Piranha Warrior Blitzers. The game box also comes with 2 double-sided Blood Bowl coins, 2 turn and re-roll markers, 4 balls, and a transfer sheet.
Alongside the new team, GW will also release an Amazon Pitch, Amazon Team Cards, and Amazon Team Dice. The Amazon Pitch features a double-sided jungle-themed board. The Amazon Team Cards contains all of the teams' rules to help keep track during match play, and the dice feature stylish symbols unique to the team.
Games Workshop also revealed Warhammer Underworlds: Gnarlwood, a new core set, which will be coming soon to preorder (see "'Warhammer Underworlds: Gnarlwood'").
Click on Gallery below for full-size images!