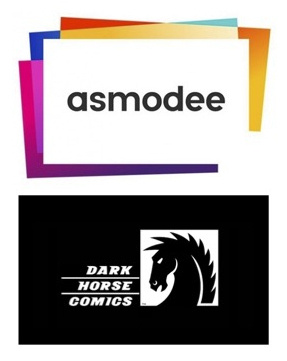 Both Asmodee Group and Dark Horse Comics sales were up in the July to September quarter, according to parent Embracer Group's second quarter announcement and report (both Asmodee and Dark Horse were acquired earlier this year, see "
Embracer Completes Acquisition
"). Other highlights included considerable discussion of Asmodee's need to cut down on excess inventory and planned intra-company collaborations.
Asmodee sales were up 9% vs. the previous year, to $309 million for the quarter (reported in SEK, converted to US$ at today's rate), with increases in sales of trading card games the biggest contributor. Asmodee distributes
Pokemon TCG
in parts of Europe, and in the U.S. Asmodee is now distributing the
My Hero Academia CCG.
Asmodee is gaining market share in its territories in both TCGs and board games, according to the report.
Asmodee believes the tabletop game market in its territories is up 7% year over year, with the U.S. growing faster than Europe, so it is outperforming the market.
Embracer Group noted the "excess levels of working capital" in the form of inventory on Asmodee's balance sheet, and that management was working to reduce it. The growth of inventory was attributed to a higher stock coverage policy, instituted to counter increased lead times and mitigate supply chain risks, the shift in mix to more TCGs, slower sales for board games, and long order-to-delivery lead times. Although overall board game sales were down 6% vs. the same quarter a year ago, sales in the U.S. are performing better than Europe, the company said.
While the company expects Asmodee inventory to decline after the holidays, it does not expect inventory to return to normal levels until the corresponding quarter next year.
Embracer reported quarter over quarter growth for Dark Horse, with improved product shipments and freight costs. On the entertainment side, Dark Horse "was somewhat impacted by cost-saving activities by certain SVOD services."
The intra-company collaborations promised when Embracer acquired Asmodee and Dark Horse appear to be closer to fruition. The company has identified 25 video game projects using Asmodee IPs, and has also identified projects involving Dark Horse novels, comics, merchandising, and media development of Asmodee properties. Dark Horse CEO Mike Richardson spoke of those projects in his recent interview with ICv2 (see "
ICv2 Interview: Mike Richardson
").
Embracer Group sales were up 190% to $910.5 million for the quarter, with net earnings of $226.6 million. The company cut guidance for its full fiscal year, citing lower video game sales and "…a more cautious view on the current macroeconomic situation, particularly related to the Mobile Games and Tabletop Games segments."