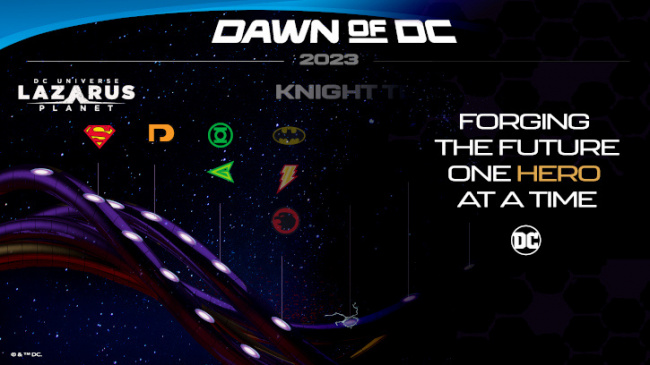 Following up on announcements made at New York Comic Con, DC Comics has introduced its "Dawn of DC" publishing plan, a line-wide multi-event narrative initiative for 2023, and laid out its first-half 2023 plan.
The storylines will flow out of
Dark Crisis on infinite Earths
(see "
DC Announces 'Dark Crisis'
") and
DC Universe: Lazarus Planet
(see "'
Lazarus Planet' Will Transform DC's Superheroes
") and include 20 new titles. Characters in the initiative will include classic characters, the next generation of new heroes, and fan favorites that haven't been front and center for some time. New titles will feature Hal Jordan, John Stewart, Shazam, the Doom Patrol, Green Arrow, Cyborg, the Penguin, and more.
"With brand-new series and story arcs from some of the top creative members in comics, Dawn of DC is one of our most ambitious initiatives ever and is a chance for us to tell bigger and bolder stories across our line," DC Publisher and Chief Creative Officer Jim Lee said in a statement accompanying the announcement.
Dawn of DC kicks off with Superman in the previously announced
Action Comics
#1051 in January,
Superman
#1 in February, and
Adventures of Superman: Jon Kent
#1 in March (see "
New 'Superman' Series in 2023
").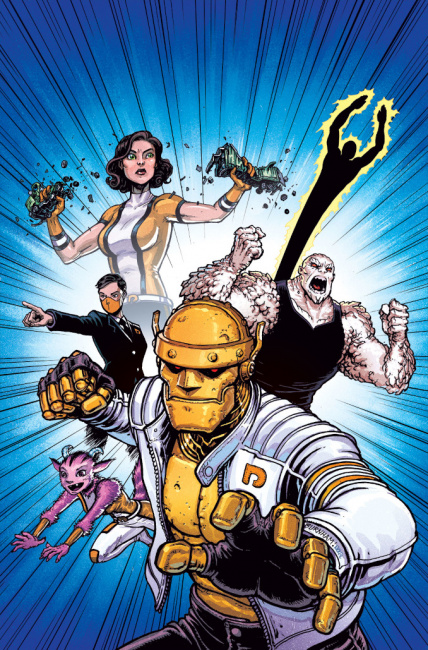 Unstoppable Doom Patrol
, by Dennis Culver and Chris Burnham, will launch in March (art in Gallery, below).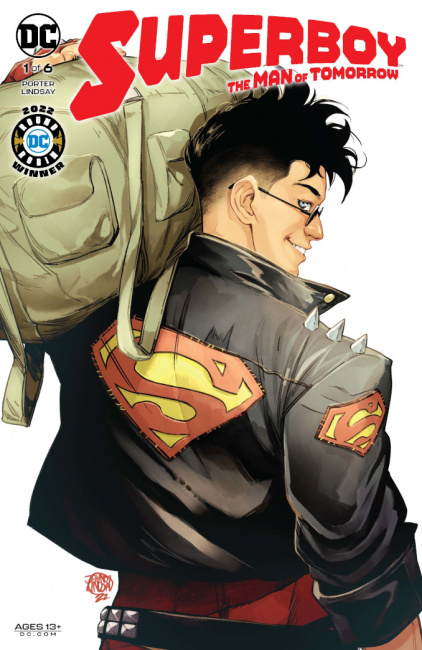 Superboy: The Man of Tomorrow
, by Kenny Porter and Jahnoy Lindsay, will launch in March. It finds Conner Kent/Superboy leaving earth behind and finding a group of freedom fighters.
Green Lantern: Hal Jordan
, written by Mariko Tamaki with an artist to be named later, will launch in April with Hal Jordan returning to Earth. In
Green Lantern: John Stewart
, written by Phillip Kennedy Johnson with an artist to be named later, which will launch later in 2023, Stewart gets back to basics as the military-trained, gritty but heroic, Green Lantern.
A new
Green Arrow
title, by Joshua Williamson and Sean Izaakse, will launch in April, setting the stage for major stories in 2023.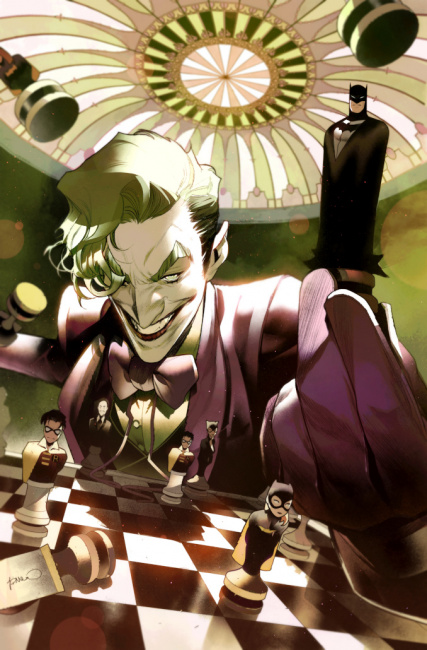 Batman: The Brave and the Bold
will launch in May with stories starring Batman and core stories building out Dawn of DC. Creators din the title will include Tom King, Mitch Gerads, Guillem March, Gabriel Hardman, Dan Mora, Rob Williams, and more.
A new
Cyborg
series, featuring Victor Stone as changed by
Dark Crisis on Infinite Earths
, will launch in May (creators not announced).
Shazam!,
launching in June, will be written by Mark Waid with art by Dan Mora. Shazam will hang out at the Rock of Eternity, punch dinosaurs in the face, see how long he can hold his breath on the moon, and get into adventures with Tawky Tawny, his tiger.
The Penguin
(working title), by Tom King and Stefano Gaudiano, will launch in June with a story of the Penguin forced out of retirement and back into organized crime by the U.S. government.
Steelworks
, in which John Henry Irons must bring metropolis into the future while trusting his niece Natasha to carry the mantle of Steel, will launch in June (creators not announced).
Click Gallery below for available art from the new series!