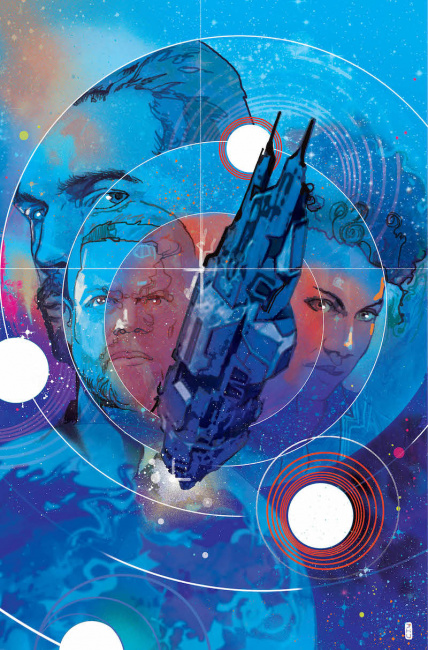 Amazon may have wound up its production of
The Expanse,
the sci-fi TV show based on the novels of Ty Franck and Daniel Abraham, but the story isn't over yet: BOOM! Studios will publish a 12-issue series,
The Expanse: The Dragon's Tooth,
an original story is set after the events of the show and fills in some of the missing years between the two novels
The Expanse: Babylon's Ashes
and
The Expanse: Persepolis Rising.
Along the way, writer Andy Diggle and artist Rubine will weave in the previously unknown histories of some of the characters. The series will launch in April 2023, and the first issue will have a main cover by Christian Ward and variants by Jung-Geun Yoon (
Something is Killing the Children
), E.M. Gist (
Star Wars
), and Salvador Larroca (
Doctor Doom
).
While the series and some variants will be distributed through the usual channels, BOOM! is also running a Kickstarter that will offer variants of each issue and trade, as well as collectibles, that will be exclusive to Kickstarter.
The Expanse is a series of novels by co-written by Franck and Abraham under the pen name James S.A. Corey. The novels were adapted into a television series that ran on SyFy for three seasons, then was canceled and picked up by Amazon, for three more. BOOM! published The Expanse: Origins in 2017 (see "'The Expanse' OGN") and a four-issue miniseries in 2020 (see "BOOM! Collects the First 'The Expanse' Comics into SC Volume") that was set between the fourth and fifth seasons of the show. The novels have also been adapted into an RPG (see "'The Expanse' Gets RPG Adaptation") and a board game (see "Options Propagate for 'The Expanse Board Game'").
Click Gallery below for covers!