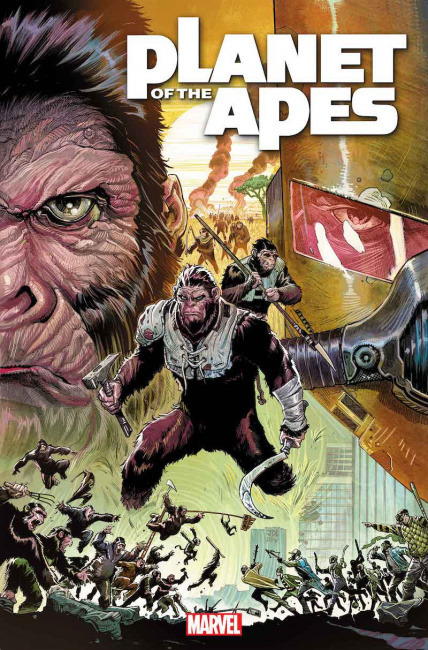 Marvel Comics will launch its new
Planet of the Apes
series in April with a storyline titled "Devolution" that ties in with the current
Planet of the Apes
movies.
Planet of the Apes
#1, by Eisner Award-winning writer David Walker (
Bitter Root, Luke Cage
) and artist Dave Wachter (
Star Wars: The High Republic
), is set in an era when, as in the films, a virus called ALZ-113 has been released that is fatal to humans but gives the apes enhanced intelligence and abilities. One group of humans decides to stem the pandemic by killing all the apes, and Peacekeeper Julia Tobon is one of the few dissenters. The 40-page first issue will be released on April 5, 2023 with a main cover by Joshua Cassara, variant covers by Salvador Larroca, Yanick Paquette, Mike McKone, and Logan Lubera, and a remastered variant by George Tuska.
The virus storyline was introduced in the 2011 film Rise of the Planet of the Apes. The fourth movie in that series, Kingdom of the Planet of the Apes, is scheduled for release in 2024 (see "Next 'POTA' Movie Set").
Marvel started publishing Planet of the Apes comics in 1974 that were direct adaptations of the films Planet of the Apes and Beneath the Planet of the Apes. They continued to publish the comics until 1977, and later several other publishers acquired the license. Marvel regained the license in 2022 (see "Marvel Gets 'Planet of the Apes' (Back)") and announced it would issue new editions of the older comics in omnibus format (see "Marvel to Omnibize 'Adventures on the Planet of the Apes'").
Click Gallery below for covers!