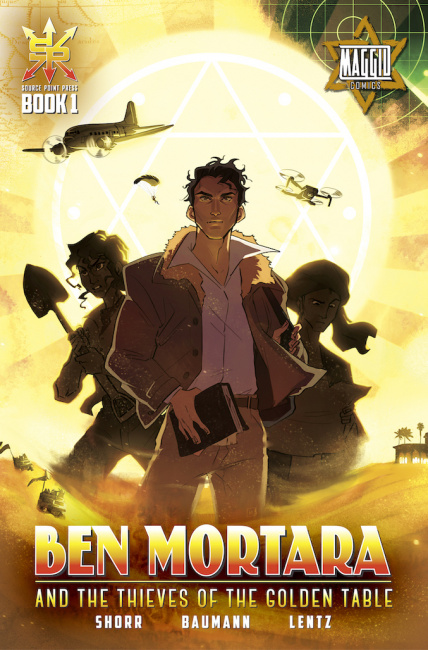 Source Point Press is starting up a new imprint, Maggid Comics, that will focus on Jewish stories by Jewish creators, and they have hired Israeli American filmmaker Arnon Z. Shorr as the Editor in Chief of the imprint.
The launch title will be the all-ages comic Ben Mortara and the Thieves of the Golden Table, an archaeological adventure story written by Shorr with art by Kat Baumann (20 Fists). The first issue follows Professor Ben Mortara as he travels to Granada, Spain, in hopes of solving the mystery of the Map of Solomon and following it to a powerful treasure. The story opens with Mortara learning of his Jewish ancestry, and it includes both Jewish and Muslim characters. The first issue will be released on March 22, 2023.
"I'm very proud of our Maggid Comics division and believe it is truly making comics history," said Source Point Press EIC Joshua Werner in a statement accompanying the announcement. "And Ben Mortara is the perfect title to introduce this new brand to the world. It's full of rich history and nail-biting adventure, something every comics lover wants to read!"
Werner is one of the founders of Source Point Press, and when he became EIC in 2021 (see "Co-Founder Werner Is New EIC of Source Press"), he stated his intention to bring both more diversity and more comics for younger readers to the publisher's lineup.
Click Gallery below for preview!