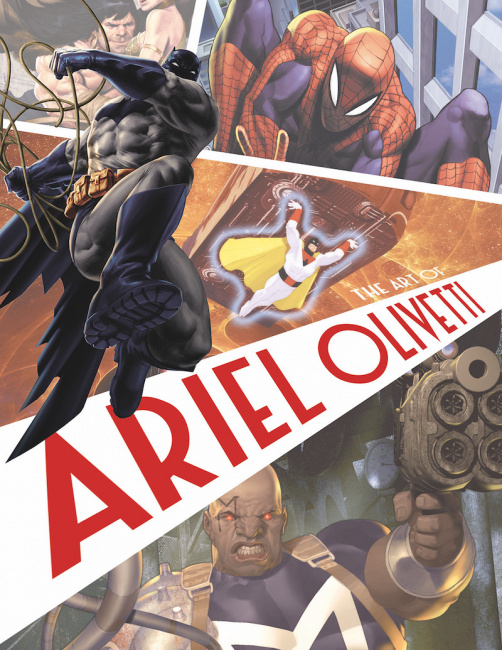 FairSquare Comics, helmed by former
Spider-Man Noir
writer and Humanoids editor Fabrice Sapolsky, has entered into a multi-year agreement with the comics studio Alien Books under which FairSquare will include Alien titles in their catalog for distribution by both Diamond Comics Distributors and Diamond Book Distributors.
"The beautiful thing about Alien Books is that their catalog complements ours," Sapolsky said in a statement accompanying the announcement. "They're coming with incredible talents and genres such as Horror, Sci-Fi, Art Books and Western that we are not offering. This partnership is a no-brainer."
The first scheduled title is The Art of Ariel Olivetti, showcasing the comics art of the Argentinian creator who has spent over 25 years as an artist for Marvel, DC, BOOM! Studios, and others. The book was crowdfunded on Kickstarter, where it garnered almost $20,000 in pledges from 274 backers. It will be released to the direct market on April 5 and to other channels on April 18, with an MSRP of $24.99 for the paperback edition and $29.99 for the deluxe hardcover.
Next up is a horror anthology by Damian Connelly, Blood, Love, Ghosts and a Deadly Spell, which will be released on April 12 with three different covers and will be distributed only to comic shops. This title was also crowdfunded on Kickstarter, where it reached its $1,800 goal in 11 hours and eventually racked up $3,399 in pledges from 63 backers. The 64-page comic will have an MSRP of $9.99.
Creators who have upcoming projects with Alien Books include Howard Chaykin, Leandro Fernandez, and Eduardo Risso.
FairSquare was founded in 2019 and emphasizes comics by under-represented groups, such as immigrants and minorities (see "Diamond Books Signs FourSquare"). It has a color-coding system to indicate creator rights: Green titles are owned or co-owned by FourSquare, Purple graphic novels are creator-owned, and Blue indicates products licensed from other publishers for English-language distribution. It will add a fourth color category, Gold, for Alien Books titles.
Click Gallery below for covers!