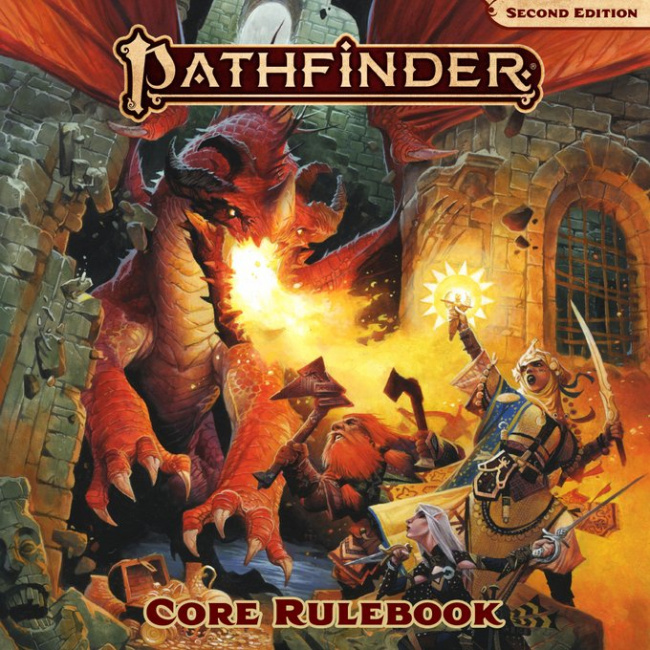 Paizo, Inc. revealed that they have run out of
Pathfinder Core Rulebooks
until April 2023, as announced via the company's Twitter feed (see below).
During the back-and-forth battle between Wizards of the Coast and their D&D community over the OGL 1.1 leak, which resulted in WotC backing off on their proposed changes to OGL (see "WotC Folds"), Paizo ran an OPENGAMING sale and announced their own ORC (see " Paizo Leads Game Company Revolt"). The sale was deemed a "critical hit" by the company as they ran through an eight-month supply of the Pathfinder Core Rulebook in two weeks. They have ordered another print run of the hardcover Pathfinder Core Rulebook, which will be ready in mid-April 2023.
Paizo also mentioned that the demand for their Beginner Boxes has been increasing as well. They also noted that there are pocket editions of the Pathfinder Core Rulebook still available for order, and the rulebook can also be found online through various platforms in PDF. Paizo is the first non-OGL publisher (see "Non-OGL Fantasy RPG Lines") to report a major boon from the WotC's OGL 1.1 misstep.
This coverage is part of RPG Week, celebrating all things RPG at ICv2. For more ICv2 RPG Week articles, click here.