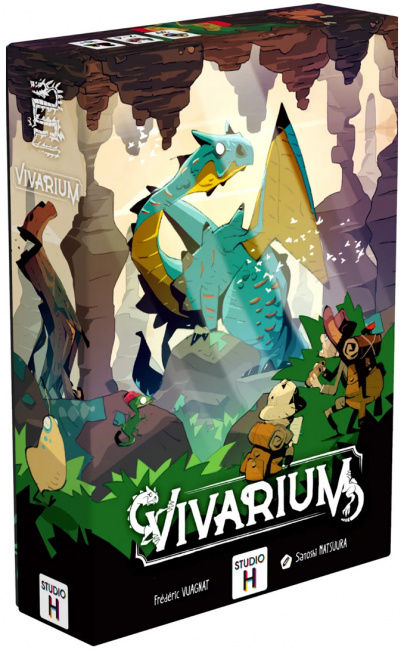 Hachette Boardgames USA will release
Vivarium
, a set-collection game from Studio H, into U.S. retail in Q2 2023. The game is by designer Frederic Vuagnat and artist Satoshi Matsuura.
The Vivarium Syndicate was established in 1898 to send explorers to a newly discovered continent. In
Vivarium
, players take the role of scientific explorers who are tasked with discovering these new lifeforms. Each turn, players use dominoes to create coordinates that allow them to build their card collection. After seven rounds, the player that has successfully completed their objectives and collected the greatest creatures wins the game.
Vivarium
is for 2 to 4 Players, ages 10 and up.
The game box includes 48 Creature cards, 16 Equipment cards, 21 Contract cards, 8 Starting Contract cards, 9 dominoes, First Player token, 9 Priority tokens, 40 gems, 1 game board, 1 score pad, 1 rulebook.
This is the latest release from Hachette's Studio H, formed in 2019 by Hachette Livre with former Matagot president Hicham Ayoub Bedran at the helm. Their previous games include
Alubari: A Nice Cup of Tea
(see "
Brew Adventure In 'Alubari: A Nice Cup of Tea
'" ) and
Oriflamme
(see "
Seize the Throne In 'Oriflamme'
"), which was named Game of the Year at the 2020 As d'Or Awards, the French equivalent of the illustrious German Spiel de Jahres.
Click Gallery below for full-size pics!