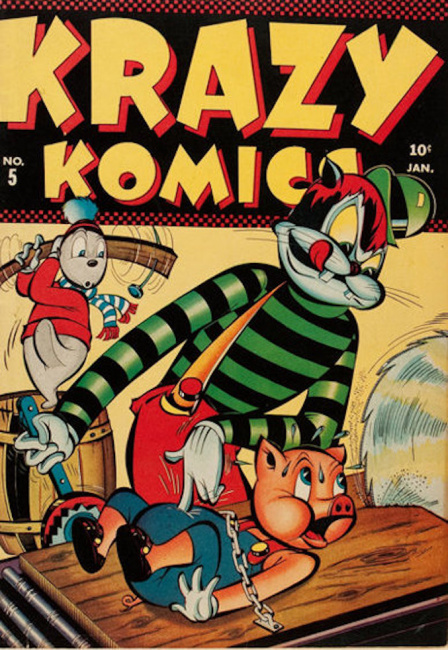 Burglars who broke into an Atlanta, Georgia, storage unit made off with some rare and vintage comics from the collection of
Flaming Carrot
creator Bob Burden, and he is asking collectors and retailers to keep an eye out for them.
The stolen items include runs of Tales of Suspense and Tales to Astonish numbered from the 50s to the 90s, as well as a collection of Golden Age and Silver Age titles that included Lois Lane #2 and #3, Cyclone Comics #1, and some early issues of Timely's funny-animal comics Terry-Toons and Krazy Komics; Burden said the latter were in good condition and would probably be graded in the 7s or 8s.
Some of Burden's own work, including Flaming Carrot Comics, Mysterymen, and Gumby, may also be included among the stolen items. "Back in the day, I would get a case of each book and I would select the most perfect, mint copies of each issue and they were packed ten to a GA size Mylite bag," Burden said. "So if you see a batch of 9.8 and 10 Flaming Carrot Comics come into the shop, go out to the car and see what else he's got."
"Also there was a handful of Ms. Marvel #1s in nice shape," Burden added. "There's no way you could distinguish these from other ones, but I mention them so if they came in with all the above items it would help identify the lot."
Burden's storage unit was one of several that were burglarized in late December 2022 or early January 2023.
Anyone with information about the stolen comics should contact the Chamblee (Georgia) Police Department at 770-986-5005 or e-mail Burden at wildcraft7@mindspring,com.
Click Gallery below for examples of some of the stolen comics.