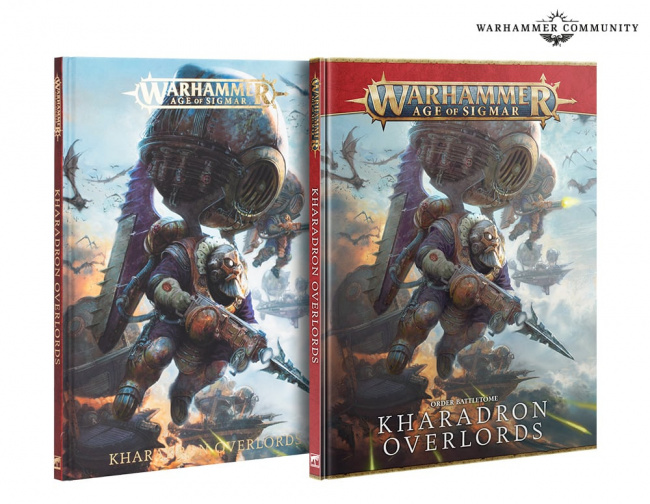 Games Workshop previewed a new
Warhammer Age of Sigmar: Kharadron Overlords
product line, which will be coming to preorder on March 4, 2023.
The Kharadron Overlords are a group of flying duardin that patrol the skies of the Mortal Realms in pursuit of profit. Battletome: Kharadron Overlords will feature updated warscrolls, pitched battle profiles, and new Path to Glory rules. The book will also come in limited edition with gilt page edges, gold foil blocking, a red ribbon page marker, and soft-touch cover. The print run for the limited edition will be 500 numbered copies.
Their new Vanguard: Kharadron Overlords boxed set allows players to field a force airborne and grounded duardin. It is lead by an Arkanaut Admiral and includes an Arkanaut Company, 3 Endrinriggers, and an Arkanaut Frigate. This box comes with 15 miniatures in all.
Alongside the book and the boxed set, there will also be Warscroll Cards: Kharadron Overlords and a Kharadron Overlords Dice Set. The card set comes with 17 reference cards and two token boards. The dice set comes with 20 dice in the Kharadron Overlords' colors.
Games Workshop also revealed six new Warhammer Age of Sigmar: Regiments of Renown miniatures boxed sets, which will be coming soon to retail (see "'Warhammer Age of Sigmar: Regiments of Renown' Boxed Sets").
Click on Gallery below for full-size images!