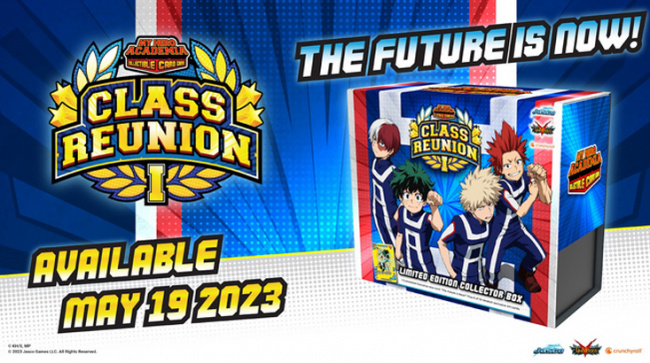 Jasco Games updated details for their upcoming
My Hero Academia CCG
products coming out in Q2.
The first update comes with the unveiling of Series 4 Deck Loadable Content: Chibi Mania! which will release on April 7, 2023. It features My Hero Academia character cards with Chibi artwork. The product comes as a 12-card deck with unique foils.
The My Hero Academia Class Reunion boxed set will hit stores on May 19, 2023. product. This product, which features sleeves by Arcane Tinmen, was announced back in January (see "2023 'Universus' Line"). The box comes with a guaranteed "The Future is Now" promo, 6 random exclusive foil cards, League of Villains booster packs, the collectible sleeves, tokens and speed/damage dice. Jasco also narrowed the time frame for the release of My Hero Academia: Undaunted Raid to late June 2023 from previously stated summer 2023.