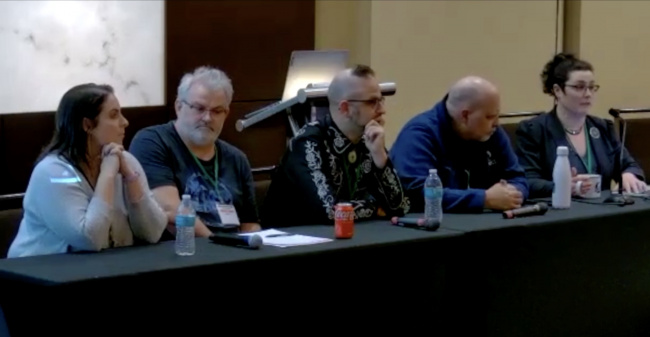 A group of retailers, publishers, and distributors met at ComicsPRO to discuss how to improve comics metadata, a step that would streamline ordering and other retailer tasks.
"Consistent, uniform data unlocks more accurate ordering, webstore building, statistic tracking, customer targeting, and makes you more money, which is what we really all want," said Katie Pryde, owner of the Eisner-winning comics shop Books with Pictures, who moderated the panel and called for the formation of a working group to create a uniform standard. Also on the panel were Jessica Wells, Senior Director, Customer Operations at Penguin Random House; Stu Colson of ComicHub; Django of Comic Shop Assistant; and Brian Garside of Manage Comics.
Metadata is all the information that is tied to a particular item. For comics, that includes not only title, author, and publisher, but pencillers, inkers, colorists, and letterers, variant covers, multiple printings, and other pieces of information that are specific to this market.
Uniformity is important because there are many different ways to convey the same information. "Brian Bendis," "Brian Michael Bendis," and "Bendis, Brian" are different ways to write the same name, and they will show up differently in a database. Similarly, "Flash" and "The Flash" will be alphabetized differently.
Publishers create the metadata and supply it to customers and distributors, but with as more distributors have entered the comics market, the standard has broken down. "We should be, but are not, all using the same data fields in the same order with the same file format," Pryde said. "We should also all be using the same categories, the same standards for how you get things into fields, the same naming conventions, the same type of author names and sequence of author names. All of these things should be standardized."
The working group would create a uniform set of standards for comics metadata, publicize it, enforce it, and meet once a year to update it. Her goal, she said, was to recruit people at the panel, meet once a month for a year, and have a set of standards ready for the publishers at ComicsPRO 2024.
That's just the beginning, as both publishers and distributors (who would be the enforcers of the standards) would have to adjust their existing systems, which would take time. Distributors would be the enforcers of the new standard, ensuring that the data is correct and uniform as it enters the marketplace, which would require additional adjustments on their end.
Pride acknowledged that this is asking a lot, but she stressed the importance of good metadata for publishers: "No matter how good your product is, if you do not give us a data that is as good as your product, we can't sell it," she said.