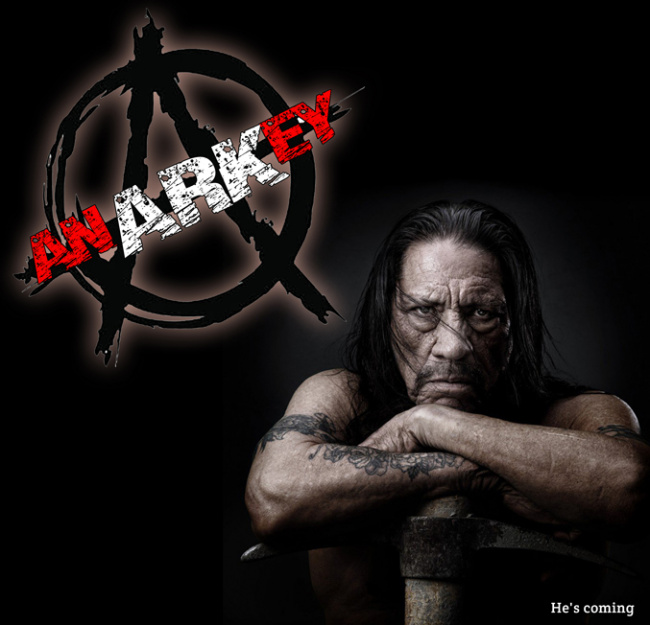 Nerdcraft Games LLC. will launch
AnARKey TCG
, a new post-apocalyptic TCG and comic book featuring actor Danny Trejo on its cards, onto Kickstarter on May 1, 2023. This game was originally announced to be available to the public at GAMA Expo 2023 (see "
'AnARKey TCG'
"), but will now arrive at Gen Con 2023.
After years of signing Trusty Machete Magic: The Gathering cards, Danny Trejo is lending his image to a brand-new TCG. AnARKey TCG will feature Trejo on leader cards, character cards, playmats, sleeves, and as the main character of the AnARKey comic book. Trejo-licensed products will be available on the upcoming Kickstarter. The Kickstarter will also include exclusive alternate art cards by Magic: The Gathering artists, such as Ken Meyer Jr., Mark Poole, Jeff Laubenstein, and Bryon Mutt Wackwitz. Additional celebrities and social media personalities will be announced as part of the campaign closer to its launch date.
Beyond the crowdfunding campaign, non-exclusive Trejo-licensed products will be available for purchase on the Nerdcraft website once the Kickstarter concludes. At Gen Con 2023, 1000 units of this game will be available for an early release, alongside a Gen Con exclusive pack. There will be multiple products coming in 2023 for Anarkey TCG, including a two-player starter set, 4 more starter decks (which include a Trejo Deck; each starter comes with a booster pack), and new booster boxes (slated for December). Additionally, random followers of Nerdcraft's social media are being chosen to be added to the game.